INTXAURBE VITORICA, José Ramón, GONZÁLEZ HIDALGO, Eloísa y URRUTIA ASUA, Gorka (2019). Informe sobre la injusticia padecida por concejales que sufrieron violencia de persecución (1991-2011), Vitoria-Gasteiz: Gobierno Vasco. 43 páginas
Liliana Zambrano Quintero
Abstract
"El Informe sobre la injusticia padecida por concejales que sufrieron violencia de persecución (1991-2011)" es un trabajo en el que se abordan los aspectos más relevantes sobre la realidad que tuvieron que vivir las personas que ejerciendo su responsabilidad de representación municipal se encontraron con la intimidación por parte de ETA. Concejales de diverso signo político vieron condicionada su cotidianidad por ejercer un derecho humano como el de la participación política. Esta situación no solamente afectó a su quehacer diario como representantes municipales, trascendió ese ámbito y tuvo una afectación directa en sus relaciones familiares, sociales y laborales. Esta realidad es la que recoge la publicación de José Ramón Intxaurbe Vitorica, Eloísa González Hidalgo y Gorka Urrutia Asua. Los tres, investigadores del Instituto de derechos humanos Pedro Arrupe de la Universidad de Deusto, desarrollan el encargo realizado por la Secretaría General de Derechos humanos, Convivencia y Cooperación del Gobierno Vasco en las 43 páginas del informe.
Published online: 20 December 2019
Downloads
Download data is not yet available.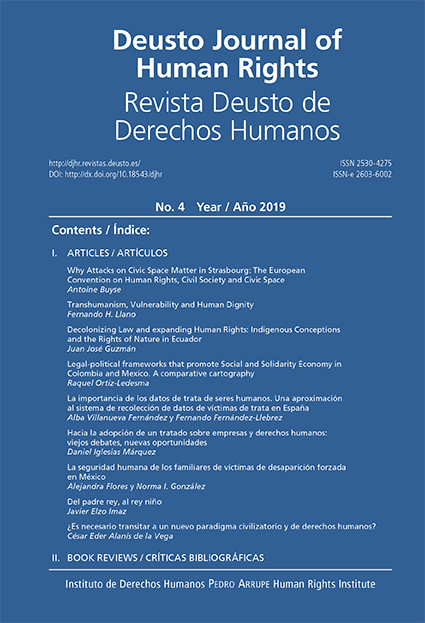 How to Cite
Zambrano Quintero, Liliana. 2019. "INTXAURBE VITORICA, José Ramón, GONZÁLEZ HIDALGO, Eloísa Y URRUTIA ASUA, Gorka (2019). Informe Sobre La Injusticia Padecida Por Concejales Que Sufrieron Violencia De persecución (1991-2011), Vitoria-Gasteiz: Gobierno Vasco. 43 páginas". Deusto Journal of Human Rights, no. 4 (December), 260-62. https://doi.org/10.18543/djhr-4-2019pp260-262.
Deusto Journal of Human Rights / Revista Deusto de Derechos Humanos is an Open Access journal; which means that it is free for full and immediate access, reading, search, download, distribution, and reuse in any medium only for non-commercial purposes and in accordance with any applicable copyright legislation, without prior permission from the copyright holder (University of Deusto) or the author; provided the original work and publication source are properly cited (Issue number, year, pages and DOI if applicable) and any changes to the original are clearly indicated. Any other use of its content in any medium or format, now known or developed in the future, requires prior written permission of the copyright holder.