The human security of the relatives of victims of enforced disappearance in Mexico
Alejandra Flores Martínez

Universidad Autónoma del Estado de México

Norma I. González Arratia

Universidad Autónoma del Estado de México
Keywords:
enforced disappearance, human security, human rights, emotional security, social welfare
Abstract
This research focuses on the analysis of the phenomenon of enforced disappearances within the theoretical framework of human security. From the epistemological premises of this study, it seems urgent to develop a security framework from and for the human being. And this is done here from the individuals immersed in their thoughts, emotions and in their socialcultural environment. For this, a qualitative research has been carried out with the aim of learning how the family faces the disappearance of one of its members through a semi-structured focal group interview and an open structured interview. The results reveal that each participant reacts differently in terms of emotions and behaviors, but most of them seek a support network to face adversity.
Received: 26 November 2019
Accepted: 09 December 2019
Published  online: 20 December 2019
Downloads
Download data is not yet available.
References
Anstett, Élisabeth. 2017. "Comparación no es razón: A propósito de la exportación de las nociones de desaparición forzada y detenidos-desaparecidos". En Desapariciones. Usos locales, circulaciones globales, coordinado por Gabriel Gatti, 28-44. Bogotá: Siglo del Hombre Editores, Universidad de los Andes.
Ariza, Natalia. 2010. "La aplicabilidad del concepto de seguridad humana en América Latina y el Caribe: el desarrollo humano como fuente de seguridad", Oasis 15: 1-20. Acceso el 31/10/2019. https://www.redalyc.org/pdf/531/53121459003.pdf
Baena, Guillermina. 2006. Seguridad humana y capital emocional, México, D.F: UNAM.
Baldwin, David. 1997. "The concept of security". Review of International Studies 23: 5-26.
Bauman, Zygmunt. 1997. Modernidad y holocausto. Madrid: Sequitur.
Booth. Ken. 2013. "Seguridad y emancipación". Relaciones Internacionales 23: 99-116.
Bourdieu, Pierre; Chamboredon, Jean-Claude y Passeron-Jean-Claude. 2002. El oficio de sociólogo. Buenos Aires: Siglo XXI Editores Argentina.
Comisión de la Seguridad Humana (2003). La seguridad humana ahora. Nueva York: Organización de Naciones Unidas.
Comisión Económica para América Latina y el Caribe (CEPAL). 2017. Panorama social de América Latina. Santiago de Chile: Organización de Naciones Unidas. Acceso 22/11/2018. https://repositorio.cepal.org/bitstream/handle/11362/42716/7/S1800002_es.pdf
Da Silva, Ludmila. 2001. No habrá flores en la tumba del pasado. La experiencia de reconstrucción del mundo de los familiares de desaparecidos. La Plata: Al margen.
Deudney, Daniel. 1999. "Environmental security: A critique". En Contested Grounds: Security and Conflict in the New Environmental Politics, editado por Daniel Deudney y Richard Matthew, 187-219. Albany: State University of New York Press.
Dey, Ian. 1993. Qualitative data analysis. Londres: Routledge.
Engle, Sally. 2006. "Transnational human rights and local activism: Mapping the middle". American Anthropologist, 108(1): 38-51.
Feierstein, Daniel. 2017. "Genocidio y desaparición: Los distintos usos de una práctica social en el contexto de una tecnología de poder". En Desapariciones. Usos locales, circulaciones globales, coordinado por Gabriel Gatti, 45-60. Bogotá: Siglo del Hombre Editores, Universidad de los Andes.
Ferrajoli, Luigi. 2010. Garantismo y Derecho Penal. México, D.F.: Ubijus.
Ferrándiz, Francisco. 2010. "De las fosas comunes a los derechos humanos: El descubrimiento de las desapariciones forzadas en la España contemporánea". Revista de Antropología Social, 19: 161-189.
Gatti, Gabriel. 2011. Identidades desaparecidas. Peleas por el sentido en los mundos de la desaparición forzada. Argentina: Eduntref.
Gatti, Gabriel. 2017. "Prolegomeno. Por un concepto científico de desaparición". En Desapariciones. Usos locales, circulaciones globales, coordinado por Gabriel Gatti: 11-27. Bogotá: Siglo del Hombre Editores, Universidad de los Andes.
Grupo Interdisciplinario de Expertos Independientes (GIEI). 2015. Primer informe del caso Ayotzinapa. Acceso 22/11/2018. https://drive.google.com/file/d/0B1ChdondilaHNzFHaEs3azQ4Tm8/view
Guevara, José A. y Chávez, Guadalupe. 2018. "La impunidad en el contexto de la desaparición forzada en México", Eunomía, 14: 162-174.
Günther, Jakobs. 2003. Derecho penal del enemigo. Madrid: Civitas.
Illouz. Eva. 2007. Intimidades congeladas. Buenos Aires: Katz discusiones.
Instituto Latinoamericano de las Naciones Unidas para la Prevención del Delito y el Tratamiento del Delincuente (ILANUD). 2011. Seguridad humana. Acceso 31/10/2019. http://www.ilanud.or.cr/A090.pdf
Jellinek, Georg. 1911. Teoría del Estado. México, D.F.: Fondo de Cultura Económica.
Kaldor, Mary. 2007. Human Security. Reflections on globalization and intervention. Cambridge: Polity.
Kant, Inmanuel. 2003. La paz perpetua. Madrid: Biblioteca virtual Miguel de Cervantes.
Kliksberg, Bernardo. 2005. "América Latina: La región más desigual de todas", Revista de Ciencias Sociales XI(3): 411- 421. Acceso el 31/10/2019. http://www.redalyc.org/articulo.oa?id=28011302
Labiano, Virginia. 2009. La militarización de la seguridad pública en México y sus consecuencias (2000-2009). Tesis de Licenciada en Relaciones Internacionales-Universidad Nacional del Centro de la Provincia de Buenos Aires. Acceso el 31/10/2019. https://www.researchgate.net/publication/303520372_La_militarizacion_de_la_seguridad_publica_en_Mexico_y_sus_consecuencias_2000-2009
Le Breton, David. 2012. "Por una antropología de las emociones". Revista Latinoamericana de Estudios sobre Cuerpos, Emociones y Sociedad 4(10): 69-79. Acceso el 31/10/2019. http://www.relaces.com.ar/index.php/relaces/article/view/208
Lira, Elizabeth y Castillo, María I. (1993). "Trauma político y memoria social". Psicología Política, 6: 95-116.
Loewenstein, Karl. 2018. Teoría de la Constitución, Barcelona: Ariel.
Lutz, Catherine.1988. Unnatural Emotions. Chicago: University of Chicago Press.
Madariaga. Carlos. 2002. "Trauma Psicosocial, trastorno de estrés postraumático y tortura". Colección del Centro de Salud Mental y Derechos Humanos (CINTRAS). Acceso 22/11/2018 http://www.cintras.org/textos/monografias/monog_trauma_psicosocial_espanol.pdf
Martín-Baró, Ignacio. 1985. "El papel del psicólogo en el contexto centroamericano". Boletín de Psicología 17: 99-112. Acceso el 30/09/2018. http://www.facso.uchile.cl/psicologia/epe/_documentos/getep/martin_baro_psicologia_liberacion.pdf
Martín-Baró, Ignacio.1990. Psicología social de la guerra: trauma y terapia. San Salvador: UCA editores.
Mastrogiovanni, Federico. 2017. Vivos ni muertos. La desaparición forzada en México como estrategia de terror. México D.F.: Debolsillo.
McCarthy. Ed. 1994. "The social construction of emotions: new directions from culture theory". Social Perspectives on Emotion, 2: 267-279.
Organización de Estados Americanos (OEA). 2008. La seguridad pública en las Américas: retos y oportunidades, Washington: OEA. Acceso el 31/10/2019. https://www.oas.org/dsp/documentos/observatorio/final.pdf
Ortega y Gasset, José. 1966. Obras completas. Madrid: Taurus y Fundación Ortega y Gasset.
Owen, Taylor y Liotta, Peter. 2006. "Why Human Security?". The Whitehead Journal of Diplomacy and International Relations, 1: 37-54. Acceso el 31/10/2019. http://www.taylorowen.com/Articles/Owen%20and%20Liotta%20-%20Why%20Human%20Security.pdf
Penalva Clemente et. al. 2015. La investigación cualitativa: Técnicas de investigación con atlas ti. Cuenca: YDLOS.
Pérez, Carmen. 2012. "Seguridad Humana". Eunomía. Revista en Cultura de la Legalidad, 3: 167-173. Acceso el 31/10/2019. https://e-revistas.uc3m.es/index.php/EUNOM/article/view/2128/1059
Pérez de Armiño, Karlos. 2007. "El concepto y el uso de la seguridad humana: análisis crítico de sus potencialidades y riesgos". Revista CIDOB d'Afers Internacionals, 76: 59-77. Acceso el 31/10/2019. https://www.raco.cat/index.php/RevistaCIDOB/article/view/55707/64993
Programa de Naciones Unidas para el Desarrollo. 1994. Informe sobre Desarrollo Humano de 1994. México, D.F.: Fondo de Cultura Económica.
Rangel, Claudia y Radilla, Andrea. 2012. Desaparición forzada y terrorismo de Estado en México. México, D.F.: Plaza y Valdés, AFADEM.
Registro Nacional de Personas Extraviadas o Desaparecidas (RNPED). 2018. México, D.F.: Gobierno de México. Acceso el 31/10/2019. https://www.gob.mx/sesnsp/acciones-y-programas/registro-nacional-de-datos-de-personas-extraviadas-o-desaparecidas-rnped
Robledo, Carolina. 2012. Drama social y política del duelo de los familiares de desaparecidos en Tijuana en el marco de la guerra contra el narcotráfico. Tesis Doctoral. México, D.F.: Colegio de México.
Ryerson Christie y Amitav, Acharya. 2008. "Human security research: progress, limitations and new directions". Working Paper. Centre for Governance and International Affairs. 11-08: 1- 29. Bristol: University of Bristol.
Sen, Amartya. 2000. "Why Human Security", International Symposium on Human Security. Tokyo, 28 July.
Smend, Rudolf (1985). Constitución y Derecho Constitucional, Madrid: Centro de Estudio Constitucionales.
Yaniv, Roznai. 2014. "The Insecurity of Human Security". Wisconsin International Law Journal 32(1): 95-141. Acceso el 31/10/2019. https://hosted.law.wisc.edu/wordpress/wilj/files/2015/03/Roznai_final.pdf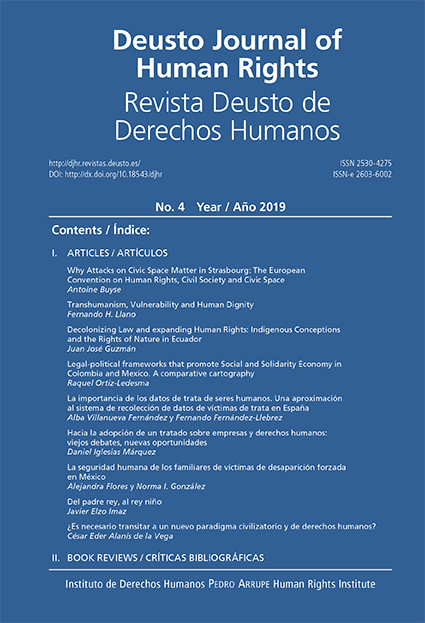 How to Cite
Flores Martínez, Alejandra, and Norma I. González Arratia. 2019. "The Human Security of the Relatives of Victims of Enforced Disappearance in Mexico". Deusto Journal of Human Rights, no. 4 (December), 177-202. https://doi.org/10.18543/djhr-4-2019pp177-202.
Deusto Journal of Human Rights / Revista Deusto de Derechos Humanos is an Open Access journal; which means that it is free for full and immediate access, reading, search, download, distribution, and reuse in any medium only for non-commercial purposes and in accordance with any applicable copyright legislation, without prior permission from the copyright holder (University of Deusto) or the author; provided the original work and publication source are properly cited (Issue number, year, pages and DOI if applicable) and any changes to the original are clearly indicated. Any other use of its content in any medium or format, now known or developed in the future, requires prior written permission of the copyright holder.