The feminist agenda in the proposal for a new Chilean Constitution
Keywords:
feminism, gender justice, constitutional agendas, legal frameworks
Abstract
This article analyzes the relationships between rebellious socio-cultural processes and the establishment of legal norms in the context of the elaboration of a new Constitution in Chile (2019-2022). The text interrogates the events that converged in the social outburst in Chile in October 2019 and that gave rise, in a context of great political instability, to an institutional solution demanded by the social movements: the elaboration of a new Constitution through democratic and participatory instances. The analysis highlights the role of feminist movements as a democratic transforming force as well as their incidence in the institutionalization of the Constitutional Convention and in the incorporation of feminist demands in the proposal for a new Constitution. The sources of this analysis are the participant observation of the constituent process, in-depth interviews, intervention in feminist organizations and digital platforms, and information produced by the Constitutional Convention and the monitoring observatories.
Received: 20 June 2022 
Accepted: 07 November 2022
Downloads
Download data is not yet available.
References
Araujo, Kathya, ed. 2019. Hilos Tensados. Para leer el octubre chileno. Santiago: Usach.
Canales, Manuel. 2022. La pregunta de octubre. Fundación, apogeo y crisis del Chile neoliberal. Santiago de Chile: Lom
Fraser, Nancy. 2008. Escalas de justicia. Barcelona: Herder.
Garretón, Manuel A. coord. 2021. Política y movimientos sociales en Chile. Antecedentes y proyecciones del estallido social de octubre 2019. Santiago: Lom.
Guzmán, Virginia, Thelma Gálvez y Verónica Riquelme. 2021. Justicia de género: económica. Santiago de Chile: Humanas, Observatorio Equidad y Género, CEM.
Lafont, Cristina. 2021. Democracia sin atajos. Una concepción participativa de la democracia deliberativa. Madrid: Trotta.
Sepúlveda, Barbara y Florencia Pinto, coord. 2021. La Constitución feminista. Santiago: LOM
Zúñiga, Yanira. 2022. Nunca más sin nosotras. Santiago de Chile: Planeta.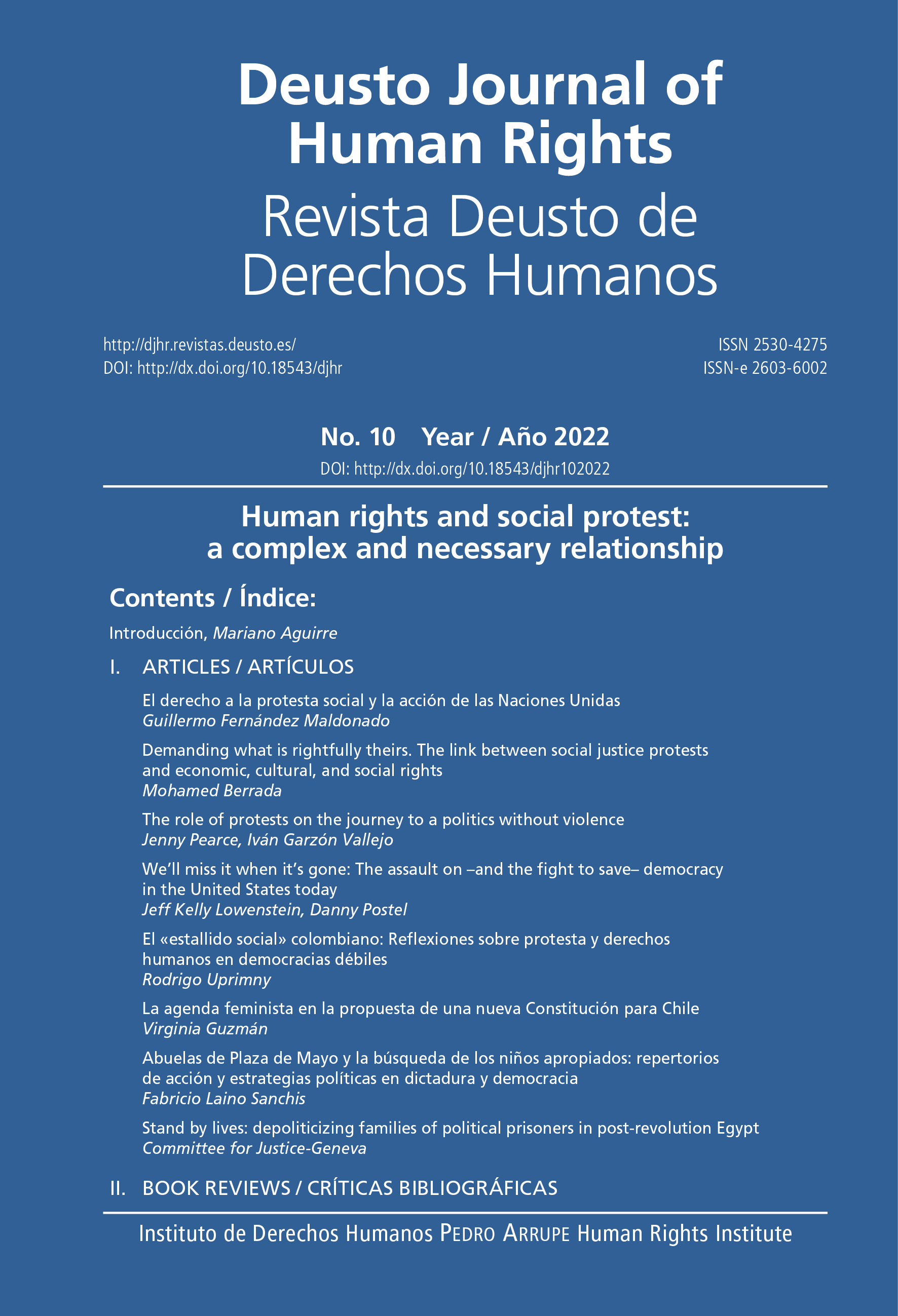 How to Cite
Guzmán, Virginia. 2022. "The Feminist Agenda in the Proposal for a New Chilean Constitution". Deusto Journal of Human Rights, no. 10 (December), 161-83. https://doi.org/10.18543/djhr.2610.
Deusto Journal of Human Rights / Revista Deusto de Derechos Humanos is an Open Access journal; which means that it is free for full and immediate access, reading, search, download, distribution, and reuse in any medium only for non-commercial purposes and in accordance with any applicable copyright legislation, without prior permission from the copyright holder (University of Deusto) or the author; provided the original work and publication source are properly cited (Issue number, year, pages and DOI if applicable) and any changes to the original are clearly indicated. Any other use of its content in any medium or format, now known or developed in the future, requires prior written permission of the copyright holder.