Violations of human rights during Franco´s dictatorship and the transition period: How far does democratic memory reach?
María del Mar Imaz Montes

Universidad Carlos III de Madrid, Spain
Keywords:
transitional justice, human rights, francoism, victims, democratic memory
Abstract
Franco's dictatorship meant the systematic violation of Human Rights in Spain for decades. Therefore, some specialists have stated that the events which took place during this period, as well as those which occurred during the previous Civil War, constitute actions that can be catalogued as blatant violation of human rights within a context of political violence. And which would turn them into imprescriptible and not susceptible to amnesty. After describing such context as a general framework, this article seeks to analyze the repression suffered by the opposition to the regime through the lens of human rights' violations. And it focuses on its implications for its victims during such a volatile but crucial historical juncture: the period of Political Transition. Politically motivated acts of violence were on a treadmill from the coup d'etat in 1936 until after the approval of the democratic constitution in 1978. Only by means of this approach can the real dimension of the victimization of certain groups during the political transition be fully understood.

Received: 30 June 2022 
Accepted: 28 March 2023
Downloads
Download data is not yet available.
References
Aguilar, Paloma. 2008. Políticas de la memoria y memorias de la política. El caso español en perspectiva comparada. Madrid: Alianza.
Amnistía Internacional. 2017. Afrontar el pasado para construir el futuro: Verdad, justicia y reparación en el contexto del País Vasco. Acceso el 5 de mayo de 2022. https://doc.es.amnesty.org/msopac/recordmedia/1@000028922/object/36694/raw.
Arzuaga, Joxe. 2022. Oso latza izan da. La tortura en Euskal Herria. Tafalla: Txalaparta.
Babiano, José; Gutmaro Gómez, Antonio Míguez y Javier Tébar. 2018. Verdugos impunes: el franquismo y la violación sistemática de los derechos humanos. Madrid: Pasado y presente.
Baby, Sophie. 2009. «Estado y violencia en la transición española». En Violencia y transiciones políticas a finales del Siglo XX, editado por Sophie Baby, Oliver Compagnon y Eduardo González Calleja, 179- 198. Madrid: Casa de Velázquez.
Chinchón, Javier. 2012. El tratamiento judicial de los crímenes de la Guerra Civil y el franquismo en España. Una visión de conjunto desde el Derecho internacional. Bilbao: Universidad de Deusto.
Cuesta, Josefina. 2007. «Generaciones y memoria de la represión franquista: un balance de los movimientos por la memoria». Hispanova. Revista de Historia Contemporánea, 7. Acceso el 5 de mayo de 2022. http://hispanianova.rediris.es/7/dossier/07d009.pdf
Díez-Picazo, Luís María y Ascensión Elvira Perales. 2008. La Constitución de 1978. Madrid: Iustel.
El País. 1981. «Rosón: La muerte de tres jóvenes en Almería ha podido ser un trágico error». El País, 17 de mayo. Acceso el 25 de febrero de 2022. https://elpais.com/diario/1981/05/17/portada/358898402_850215.html.
Equipo Nizkor. 2004. La cuestión de la impunidad en España y los crímenes del franquismo. Acceso el 14 de febrero de 2022. http://www.derechos.org/nizkor/espana/doc/impuesp.html.
Escudero, Rafael. 2017. «Debatiendo sobre justicia transicional: memoria, perdón y castigo». En Entre la libertad y la igualdad: Ensayos críticos sobre la obra de Rodolfo Vázquez. Tomo I. Coordinado por Jorge Cerdio, Pablo de Larrañaga y Pedro Salazar, 99-117. México: Universidad Autónoma de México.
Escudero, Rafael. 2018. «Memoria histórica e imperio de la ley: el poder judicial ante el derecho a la reparación de las víctimas del franquismo». Derechos y libertades: Revista de Filosofía del Derecho y derechos humanos, 38: 73-105.
Fassim, Dider. 2010. La raison humanitaire. París: Gallimard-Seuil.
Gatti, Gabriel (ed.). 2017. Un mundo de víctimas. Barcelona: Antrophos.
Gil Gil, Alicia. 2009. La justicia de transición en España. De la amnistía a la memoria histórica. Barcelona: Atelier.
Gobierno Vasco. 2011. Informe sobre víctimas de vulneraciones de derechos humanos y sufrimientos injustos producidos en un contexto de violencia de motivación política. Vitoria-Gasteiz: Departamento de Justicia y Administración Pública.
González Calleja, Eduardo. 2009. «Tiempos de transición: la violencia subversiva en el mundo occidental durante la década de los 70». En Violencia y transiciones políticas a finales del Siglo XX, editado por Sophie Baby, Oliver Compagnon y Eduardo González, 59-75. Madrid: Casa de Velázquez.
Jelin, Elizabeth. (comp.). 2003. Las conmemoraciones: las disputadas de las fechas «infelices». Madrid: Siglo XXI.
Juliá, Santos. 2010. Hoy no es ayer. Ensayos sobre la España del siglo XX. Barcelona: RBA.
López Guerra, Luís. 1998. «The application of the Spanish model in the constitutional transitions in Central and Eastern Europe». Cardozo Law Review 19: 1937-1951.
Mann, Michael. 2004. Fascists. New York: Cambridge University Press. Acceso el 3 de marzo de 2022. https://doi.org/10.1017/CBO9780511806568.
Marín, Miquel A. 2005. Los historiadores españoles en el franquismo, 1948- 1975: la historia local al servicio de la patria. Zaragoza: Institución Fernando el Católico.
Méndez, Juan. 2011. Taking a stand. The evolution of human rights. New York: Palgrave Macmillan.
Montenegro, Marisela e Isabel Pipper. 2009. «Reconciliación y construcción de la categoría víctima: Implicaciones para la acción política en Chile». Revista de Psicología, XVIII(1): 31- 60.
Moradiellos, Enrique. 2004. 1936: Los mitos de la Guerra Civil, Barcelona: Península.
Nieburg, Harold. 1969. Political violence. The behavioral process. New York: St. Martin's Press.
Peiró, Ignacio. 2004. «La opinión pública y los historiadores: memoria, historiografía y política», en Usos de la historia y políticas de memoria. Editado por Carlos Forcadell, 145-165. Zaragoza: Prensas Universitarias de Zaragoza.
Przeworski, Adam, Michel E. Álvarez, José Antonio Cheibud y Fernando Limongi. 2000. Democracy and development. Political institutions and well-being in the World, 1950-1990. Cambridge: Cambridge University Press.
PSOE. 2004. Resolución del 36 Congreso del PSOE relativa a la recuperación y difusión de nuestra memoria histórica. Acceso 25 de febrero de 2022 http://www.psoe.es/ambito/congresospsoe/docs/index.do?apt=1089yisSecondLevel=trueyaction=List. Leído 15/V/2005.
Rubio, Francisco. 1993. Las víctimas del terrorismo en España. Madrid: Dykinson.
Sánchez Soler, Mariano. 2010. La transición sangrienta. Una historia violenta del proceso democrático en España (1975-1983). Barcelona: Península.
Tamarit, Josep Maria. 2013. «Paradojas y patologías en la construcción social, política y jurídica de la victimidad». Indret Revista para el análisis del derecho, 1.
Tilly, Charles. 2007. Violencia colectiva. Barcelona: Hacer Editorial.
Wilhelmi, Gonzalo. 2013. «Las otras víctimas de una transición nada pacífica». Comunicación presentada al I Congreso de Víctimas del Franquismo, celebrado en Rivas Vaciamadrid, 20-22 de abril de 2013. Acceso el 1 de junio 2022 http://www.congresovictimasfranquismo.org/wpcontent/uploads/2013/10/gonzalo_wilhelmi_comunicacion_victimas.pdf.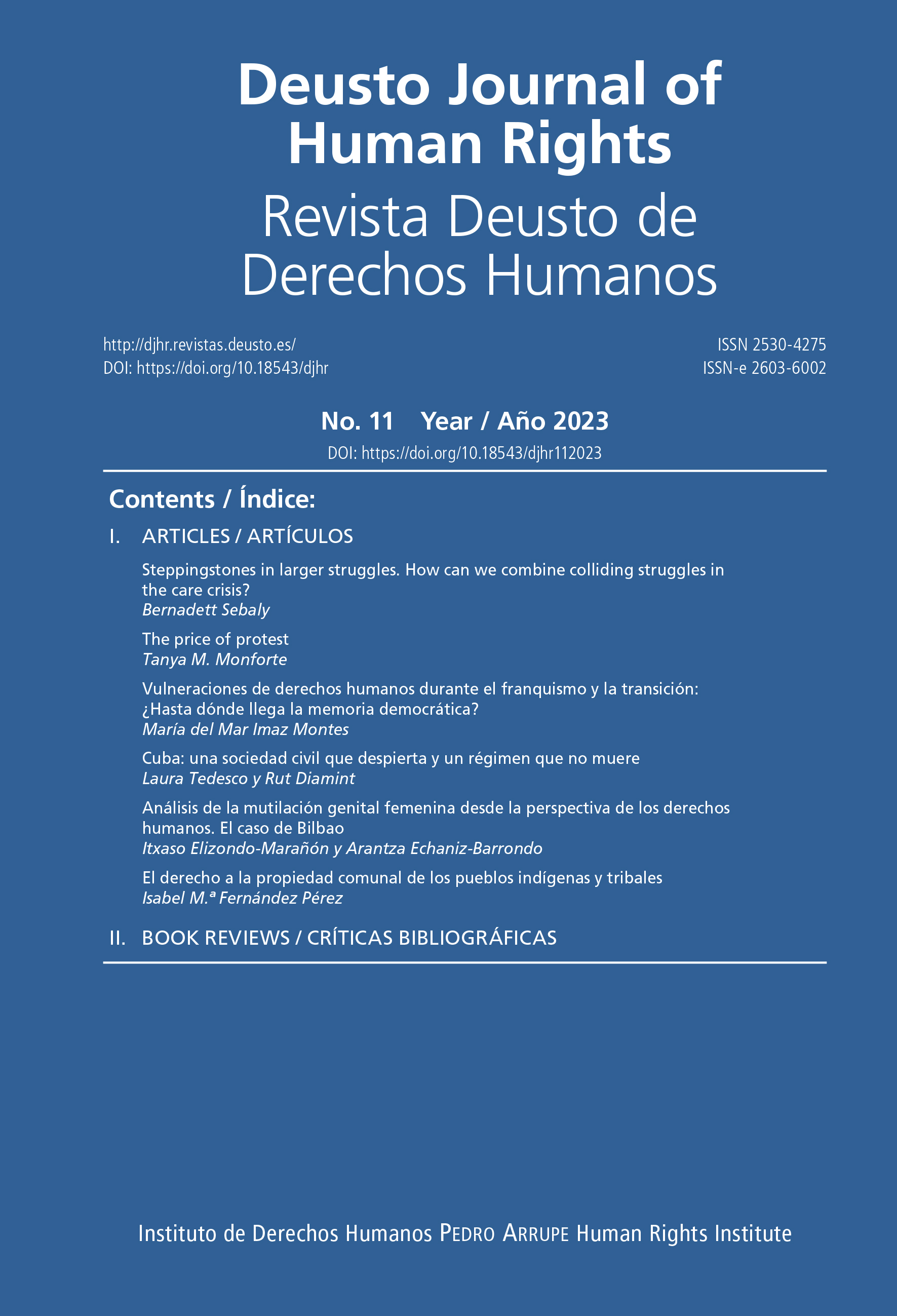 How to Cite
Imaz Montes, María del Mar. 2023. "Violations of Human Rights During Franco´s Dictatorship and the Transition Period: How Far Does Democratic Memory Reach?". Deusto Journal of Human Rights, no. 11 (June), 73-94. https://doi.org/10.18543/djhr.2516.
Deusto Journal of Human Rights / Revista Deusto de Derechos Humanos is an Open Access journal; which means that it is free for full and immediate access, reading, search, download, distribution, and reuse in any medium only for non-commercial purposes and in accordance with any applicable copyright legislation, without prior permission from the copyright holder (University of Deusto) or the author; provided the original work and publication source are properly cited (Issue number, year, pages and DOI if applicable) and any changes to the original are clearly indicated. Any other use of its content in any medium or format, now known or developed in the future, requires prior written permission of the copyright holder.