The process towards gender parity in Latin America in the light of a participatory ideology. Methodological proposal applicable to interdisciplinary gender studies and women's citizenship
Irune Aguirrezabal Quijera

Universidad Autónoma de Madrid, Spain
Keywords:
interdisciplinary methodology, participatory ideology, gender studies, parity democracy, Latin America
Abstract
This article presents a methodological proposal developed to address research studies linked to gender studies and, in particular, women's citizenship. The methodology addresses research problems from an interdisciplinary, integral and circular perspective, linking the critique of traditional notions and paradigms of the social, economic and political order by feminist theoretical thought with praxis. That is, with the tensions and strategic synergies that occur in different contexts. The article shows its successful application to a study already carried out on the process towards gender parity in Latin America. The two methodological elements that distinguish the critical analysis on which the methodology is based are: (1) a circular dialogue, with a constant interrogation of the conceptual and the contextual analytical perspectives. In the research to which it has been applied, it resulted in a three-dimensional structure of the phenomenon described: conceptual, evolutionary in time and space, and of the progress arising from the tension between action-resistance; and (2) the wide and diverse repertoire of philosophical, commented and participatory sources, originating from the very actors involved in the phenomenon analysed (the "Latin American paritist process") in the light of a participatory ideology. The methodology intends to help academic research studies by trying to solve real problems; hence, together with a critical qualitative methodology, in which phenomena, causes, contexts and actors are analysed, a prescriptive approach is also formulated, in a propositional spirit.
Received: 02 November 2020
Accepted: 14 May 2021
Downloads
Download data is not yet available.
References
Alvarez, Sonia E., et. al. 2003. «Encountering Latin American and caribbean feminisms». Signs: Journal of women in culture and society. 28, n. 2: 541-579.
Aguirrezabal, Irune. 2020. La Democracia Paritaria en América Latina: tres dimensiones explicativas del proceso, tesis doctoral defendida el 10 de julio. Madrid: Universidad Autónoma de Madrid. https://lnkd.in/eTmd8zZ
Archenti, Nélida y Laura Albaine. 2013. «Los desafíos de la paridad de género. Tensión normativa y violencia política en Bolivia y Ecuador». Revista Punto Género 3: 195-219.
Archenti, Nélida y María Inés Tula. 2007. «Cuotas de género y tipo de lista en América Latina», Opinião Pública 13, n. 1: 185-218.
Archenti, Nélida y María Inés Tula. 2014. «Cambios normativos y equidad de género. De las cuotas a la paridad en América Latina: los casos de Bolivia y Ecuador». América Latina Hoy 66: 47-68.
Bal, Mieke. 2009. Conceptos viajeros en las humanidades: una guía de viaje. Murcia: Cendeac.
Bareiro, Line, et al. 2004. Sistemas electorales y representación femenina en América Latina. Serie Mujer y Desarrollo, n. 54. Santiago de Chile: CEPAL.
Bareiro, Line, et al. 2013. La ciudadanía de las mujeres en las democracias de las Américas. Comisión Interamericana de Mujeres (OEA) e Instituto Internacional para la Democracia y la Asistencia Electoral (IDEA). OEA/Ser.L/II.6.12.
Bareiro, Line y Lilian Soto. 2015. La hora de la igualdad sustantiva: Participación política de las mujeres en América Latina y el Caribe Hispano. México: ONU Mujeres.
Beltrán, Elena y Cristina Sánchez Muñoz (eds). 1996. Las ciudadanas y lo político. Madrid: Instituto Universitario de Estudios de la Mujer. Universidad Autónoma de Madrid.
CEPAL. 2007. Décima Conferencia Regional sobre la Mujer de América Latina y el Caribe. Consenso de Quito. Accedido el 20/11/2020. https://www.cepal.org/es/eventos/decima-conferencia-regional-la-mujer-america-latina-caribe
Cirillo, Lidia. 2002. Mejor huérfanas: por una crítica feminista al pensamiento de la diferencia (Vol. 121). Barcelona: Anthropos.
Del Toro, Mauricio I. 2006. El fenómeno del soft law y las nuevas perspectivas del derecho internacional. Anuario mexicano de derecho internacional, 6, 513-549. México D.F.: Universidad Nacional Autónoma de México.
Esping-Andersen, Gøsta. 1993. «Las tres economías políticas del Estado de bienestar». En Desarrollo Institucional y Conflicto. De la geopolítica a la distribución del ingreso, Compilado por Sebastián Mazzuca, 229-265. Buenos Aires: Banco de Desarrollo de América Latina.
Facio, Alda. 2011. «Viena 1993, cuando las mujeres nos hicimos humanas». Pensamiento iberoamericano 9: 3-20.
Faye, Jean Pierre y Juan Carlos García-Borrón. 1998. El siglo de las ideologías. Barcelona. Ediciones del Serbal.
Freeden, Michael. 1996. Ideologies and political theory: A conceptual approach. Oxford: Oxford University Press.
Godet, Michel. 2000. «The art of scenarios and strategic planning: tools and pitfalls». Nueva York. Technological forecasting and social change 65, n. 1: 3-22.
Hobson, Barbara. 1996. «Identidades de género. Recursos de poder y Estado de bienestar». En Las ciudadanas y lo político. Editado por Elena Beltrán y Cristina Sánchez, 61-96. Madrid: Instituto Universitario de Estudios de la Mujer.
Htun, Mala y Jennifer Piscopo. 2010. «Presence Without empowerment? Women in politics in Latin America and the Caribbean», CPPF Working Papers on Women in Politics 2. Nueva York: Conflict Prevention and Peace Forum.
Innerarity, Daniel. 2011. La democracia del conocimiento. Barcelona: Paidós.
Johnson, Niki. 2000. «¿Democracia a medias?», Revista Uruguaya de Ciencia Política 12: 69-96.
Jones, Mark. 2000. «El sistema de cuotas y la elección de las mujeres en América Latina: El papel fundamental del sistema electoral». En La democracia paritaria en la construcción europea, coordinado por Paloma Saavedra y Carmen Castro, 35-46. Madrid: Coordinadora Española del Lobby Europeo de Mujeres.
Lagarde, Marcela. 2012. El feminismo en mi vida: hitos, claves y utopías. México D.F.: Inmujeres. Acceso el 15/10/2020. http://repositorio.ciem.ucr.ac.cr/jspui/handle/123456789/121
Lister, Ruth y Jo Campling. 1997. Citizenship: feminist perspectives. Londres: Aardvark Editorial.
Llanos, Beatriz y Marta Martínez. 2017. La democracia paritaria en América Latina. Los casos de México y Nicaragua. Washington DC. Comisión Interamericna de la Mujer.
Lovenduski, Joni. 2005. Feminizing politics. Oxford: Polity.
Maquieira, Virginia. 2008. «Tensiones creativas en el estudio de los derechos humanos en la era global». En Antropología de orientación pública: visibilización y compromiso de la Antropología. Coordinado por Mercedes Jabardo, Pilar Monreal y Pablo Palenzuela, 61-74. San Sebastián: Ankulegi.
Massolo, Alejandra. 2002. «El espacio local: oportunidades y desafíos para el empoderamiento de las mujeres. Una visión latinoamericana». Ponencia presentada en las «Jornadas sobre Género y Desarrollo», Vitoria-Gasteiz: Ayuntamiento de Vitoria-Gasteiz, 23-24 de mayo. Acceso el 15/10/2020. http://webcache.googleusercontent.com/search?q=cache:RGW1CZsLv_kJ:municipios.unq.edu.ar/modules/mislibros/archivos/massoloelespaciolocal.doc+&cd=1&hl=es&ct=clnk&gl=es
Minayo, Maria Cecilia. 2010. «Los conceptos estructurantes de la investigación cualitativa». Salud colectiva, 6: 251-261.
Miyares, Alicia. 2003. Democracia feminista. Valencia: Universitat de València.
Morin, Edgar, Emilio R. Ciurana y Raúl Motta. 2003. El pensamiento complejo como método de aprendizaje en el error y la incertidumbre humana. Barcelona: Gedisa.
Naciones Unidas. 2015. Objetivos de desarrollo sostenible. Accedido el 20/11/2020. https://www.un.org/sustainabledevelopment/es/2015/09/la-asamblea-general-adopta-la-agenda-2030-para-el-desarrollo-sostenible/
Pateman, Carole. 1988. The sexual contract. Redwood City, California: Standford University Press.
Pérez-Luño, Antonio. 2002. «Ciudadanía y definiciones». Cuadernos de Filosofía del Derecho. Doxa. 25: 177-211.
Phillips, Anne. 1995. The politics of presence. Nueva York: Oxford University Press.
Pitkin, Hanna. F. 1967. The concept of representation. Berkeley: Univ of California Press.
Programa de Naciones Unidas para el Desarrollo (PNUD). 2013. ¿Cuánto hemos avanzado? Un análisis de la participación política de las mujeres en los gobiernos subnacionales en América Latina y el Caribe. Panamá: PNUD.
Puleo, Alicia. 2005. «Lo personal es político: el surgimiento del feminismo radical». En Teoría feminista: de la ilustración a la globalización. Editado por Celia Amorós y Ana de Miguel, 35-67. Madrid: Minerva.
Ríos, Marcela (ed.). 2008. Mujer y política: el impacto de las cuotas de género en América Latina. Santiago de Chile: FLACSO Chile e IDEA Internacional.
Román-Zozaya, Carolyn. 2008. «Participant ideology: A new perspective on politicians and ideology». Journal of Political Ideologies 13, n. 2: 111-132. DOI: https://doi.org/10.1080/13569310802075944
Roza, Vivian, Beatriz Llanos y Gisela Garzón. 2010. Partidos políticos y paridad: la ecuación pendiente. Washington DC: IDEA y Banco Interamericano de Desarrollo.
Sánchez Muñoz, Cristina. 2004. La ciudadanía social de las mujeres. En Constitución y derechos fundamentales, editado por Jerónimo Betegón, et al. 586-604. Madrid: Secretaría General Técnica. Presidencia del Gobierno.
Scott, Joan. 2012. Parité!: La igualdad de género y la crisis de universalismo francés. Mexico: Fondo de Cultura Económica.
Toro, Mauricio I. del 2006. «El fenómeno del soft law y las nuevas perspectivas del derecho internacional». Anuario mexicano de derecho internacional 6: 513-549.
UN-Women. 2021. Commission on the Status of Women, Acceso el 20/11/2020. https://www.unwomen.org/en/csw/csw65-2021.
Valcárcel, Amelia. 1993. «Sobre revolución y misoginia». Actas del Seminario Permanente Feminismo e Ilustración 1988-92, coordinado por Celia Amorós, 179-184, Madrid: Dirección General de la Mujer.
Vargas, Virginia. 2002. «Los feminismos latinoamericanos en su tránsito al nuevo milenio (Una lectura político personal)». En Estudios y otras prácticas intelectuales latinoamericanas en cultura y poder. Compilado por Daniel Mato, 307-316, Caracas: Consejo Latinoamericano de Ciencias Sociales.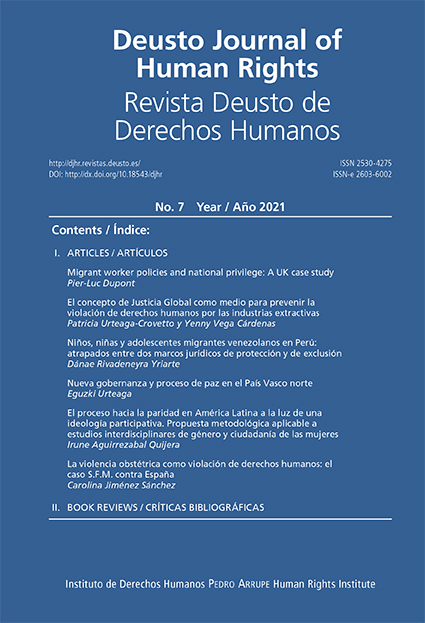 How to Cite
Aguirrezabal Quijera, Irune. 2021. "The Process towards Gender Parity in Latin America in the Light of a Participatory Ideology. Methodological Proposal Applicable to Interdisciplinary Gender Studies and women's Citizenship". Deusto Journal of Human Rights, no. 7 (June), 127-56. https://doi.org/10.18543/djhr.1894.
Deusto Journal of Human Rights / Revista Deusto de Derechos Humanos is an Open Access journal; which means that it is free for full and immediate access, reading, search, download, distribution, and reuse in any medium only for non-commercial purposes and in accordance with any applicable copyright legislation, without prior permission from the copyright holder (University of Deusto) or the author; provided the original work and publication source are properly cited (Issue number, year, pages and DOI if applicable) and any changes to the original are clearly indicated. Any other use of its content in any medium or format, now known or developed in the future, requires prior written permission of the copyright holder.