Moral education models and victims
Xabier Etxeberria

University of Deusto
Keywords:
moral education, victims, receptivity, alterity, relation, moral judgement, human rights, virtues
Abstract
Proposals for moral education have been formulated since as long back as in Greek Antiquity. It is remarkable that, despite its plurality and its long history, victims have rarely found a relevant space in that education. This fact does not only fuel an injustice, a non-recognition of their rights, but it also means a serious damage to the quality of such education. This paper seeks to fill in such a gap by looking into how contemporary educational models are improved when victims are considered in their respective formative designs. This transformation is dwelt upon here from the perspective of classical approaches such as the formation of character or the development of moral judgement, and also from more recent paradigms such as the care relation and alterity. Always keeping in mind the ultimate objective of achieving a wellfounded and sound moral education, this is pursued by never forgetting the impact on the victims and the protection of their rights.
Received: 24 January 2020
Accepted: 08 April 2020
Published online: Articles in Press 07 April 2020; No. 5 (2020) 26 June 2020
Downloads
Download data is not yet available.
References
Arana, Ricardo y García, Mónica. 2012. Las víctimas en la educación. Un testimonio de valor. San Sebastián: Gobierno Vasco.
Aristóteles.1988. Ética nicomáquea. Ética eudemia. Madrid: Gredos.
Bárcena, Fernando. 2003. «La mirada excéntrica. Una educación desde la mirada de la víctima», en La ética ante las víctimas, editado por José María Mardones y Reyes Mate, 195-218. Barcelona: Anthropos.
Bilbao, Galo y Xabier Etxeberria. 2005. La presencia de las víctimas del terrorismo en la educación para la paz en el País Vasco. Bilbao: Bakeaz.
Bilbao, Galo, Cristina de la Cruz y Pedro Sasia. 2010. Víctimas: todas iguales, todas diferentes. Bilbao: Bakeaz.
Bollnow, Otto F. 1969. Esencia y cambios de las virtudes. Madrid: Revista de Occidente.
Etxeberria, Xabier. 2012. Virtudes para convivir. Madrid: PPC.
Etxeberria, Xabier. 2013. La educación para la paz reconfigurada: la perspectiva de las víctimas. Madrid: Catarata.
Etxeberria, Xabier. 2014a. «El valor de la presencia de las víctimas del terrorismo en la educación vasca». Cuadernos de Pedagogía 445: 86-90.
Etxeberria, Xabier. 2014b. «El debate ético sobre la dignidad de la persona». Lumen, LXIII, n. 2-3: 229-249.
Etxeberria, Xabier. 2014c. «En torno a la legitimidad y el sentido del castigo por el delito». Revista portuguesa de filosofía 70, n. 4: 765-786.
Galanti, Sebastiano. 2013. «Riconoscimento e sensibilità: Il conflitto con l'altro tra Ricoeur e Levinas». Archivio di Filosofia LXXXI, n. 1-2: 27-35.
Harillo, Susana, Jesús Prieto y Josu Ugarte. 2006. Historias que nos marcan: las víctimas del terrorismo en la educación para la paz. Guía didáctica para educación secundaria. Bilbao, Bakeaz. Consultado el 6 de abril de 2015. Disponible en: http://www.hezkuntza.ejgv.euskadi.eus.
Kant, Immanuel. 1973. Fundamentación de la metafísica de las costumbres. Madrid: Espasa Calpe.
Kohlberg, Lawrence. 1981. Essays on Moral Development. The Philosophy of Moral Development. Stages and the Idea of Justice. San Francisco: Harper and Row.
Levinas, Emmanuel. 1987. De otro modo que ser o más allá de la esencia. Salamanca: Sígueme.
Levinas, Emmanuel. 1991a. «Transcendence et hauteur», en Emmanuel Levinas, dirigido por C. Challier y M. Abensour, Paris: de l'Herne.
Levinas, Emmanuel. 1991b. Ética e infinito. Madrid: Visor. Levinas, Emmanuel. 1991c. Entre nous. Paris: Biblio essais.
Levinas, Emmanuel. 1994. Dios, la muerte y el tiempo. Madrid: Cátedra.
Macintyre, Alasdair. 2001. Animales racionales y dependientes: por qué los seres humanos necesitamos las virtudes. Barcelona: Crítica.
Mate, Reyes. 2011. Tratado de la injusticia. Barcelona: Anthropos.
Mínguez, Ramón. 2010. «La escuela hoy en la encrucijada. Hacia otra educación desde la ética de E. Levinas». Teoría de la Educación 22: 43-61.
Mínguez, Ramón, Eduardo Romero y Marina Pedreño. 2016. «La pedagogía del otro: Bases antropológicas e implicaciones educativas». Teoría de la Educación 28, n. 2: 163-183.
Noddings, Nel. 2009. La educación moral. Propuesta alternativa para la educación del carácter. Buenos Aires: Amorrortu.
Nussbaum, Martha. 2015. Paisajes del pensamiento. La inteligencia de las emociones. Barcelona: Paidós.
Ortega, Pedro. 2004. «La educación moral como pedagogía de la alteridad». Revista española de pedagogía LXII, n. 227: 5-30.
Ortega, Pedro y Ramón Mínguez. 2005. «La educación moral, ayer y hoy». Revista Galega do Ensino 13, n. 46: 863-885.
Ortega, Pedro y Eduardo Romero. 2013. «La experiencia de las víctimas en el discurso pedagógico». Teoría de la educación 25, n. 1: 63-77.
Ortega, Pedro. 2016. «La ética de la compasión en la pedagogía de la alteridad». Revista española de pedagogía, LXXIV, n. 264: 243-264.
Puig-Rovira, Josep M.ª 1995. «Construcción dialógica de la personalidad moral». Revista Iberoamericana de Educación, 8: 103-120.
Renault, Emmanuel. 2004. L'expérience de l'injustice. Paris: La Découverte.
Ricoeur, Paul. 1990. Soi-même comme un autre. Paris: Seuil.
Rodríguez Pascual, Esther. (coord.) 2013. Los ojos del otro. Encuentros restaurativos entre víctimas y exmiembros de ETA (2.ª edición). Santander: Sal Terrae.
Rogozinski, Jacob. 1999. Le don et la loi. Paris: PUF.
Santos, Marcos. 2012. «Pedagogía y memoria. Educar a partir del recuerdo de los vencidos», Pensamiento 68, n. 255: 79-106.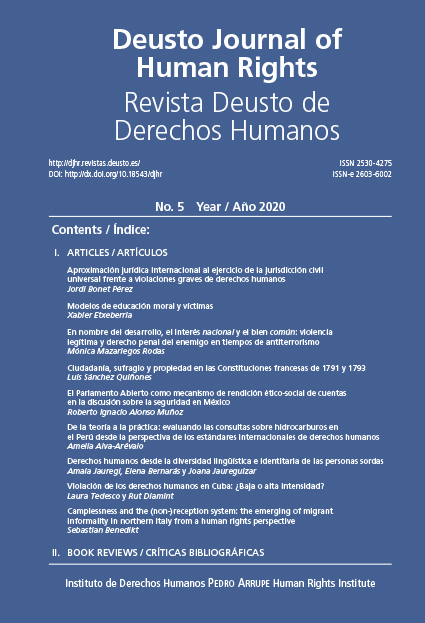 How to Cite
Etxeberria, Xabier. 2020. "Moral Education Models and Victims". Deusto Journal of Human Rights, no. 5 (June), 41-68. https://doi.org/10.18543/djhr.1759.
Deusto Journal of Human Rights / Revista Deusto de Derechos Humanos is an Open Access journal; which means that it is free for full and immediate access, reading, search, download, distribution, and reuse in any medium only for non-commercial purposes and in accordance with any applicable copyright legislation, without prior permission from the copyright holder (University of Deusto) or the author; provided the original work and publication source are properly cited (Issue number, year, pages and DOI if applicable) and any changes to the original are clearly indicated. Any other use of its content in any medium or format, now known or developed in the future, requires prior written permission of the copyright holder.