Moreno Márquez, Gorka (coord.). 2018. El proceso de integración del colectivo inmigrante en Euskadi. Análisis de la encuesta de la población inmigrante extranjera en la CAE (EPIE2014). Bilbao: Servicio Editorial de la Universidad del País Vasco. 274 pp.
Irune Ruiz Ciarreta

University of the Basque Country
Abstract
Los procesos de integración de las personas inmigrantes son una cuestión de compleja conceptualización, que deben ser analizados desde un enfoque multidimensional. El conocimiento de estos procesos resulta de gran importancia, especialmente desde una perspectiva temporal y considerando el efecto que los cambios socioeconómicos, como la crisis económica, tienen sobre su desarrollo. En este sentido, el trabajo coordinado por Ikuspegi-Observatorio Vasco de Inmigración resulta realista e interesante, ofreciendo claves para conocer y comprender mejor la evolución del proceso de integración del colectivo de origen extranjero residente en la Comunidad Autónoma de Euskadi —CAE— tras el impacto de la crisis económica y sus consecuencias sobre este.
Published online: 11 December 2018
Downloads
Download data is not yet available.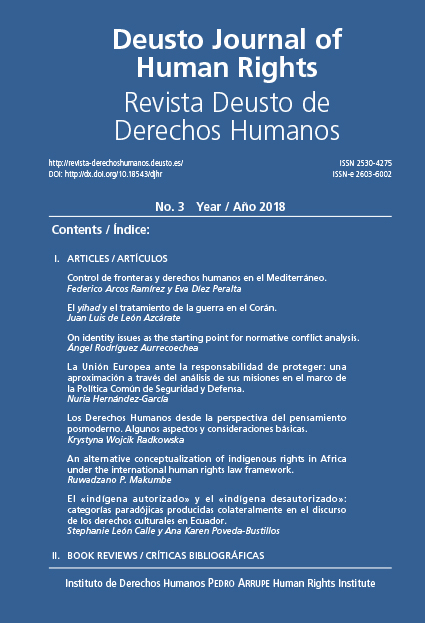 How to Cite
Ruiz Ciarreta, Irune. 2018. "Moreno Márquez, Gorka (coord.). 2018. El Proceso De integración Del Colectivo Inmigrante En Euskadi. Análisis De La Encuesta De La población Inmigrante Extranjera En La CAE (EPIE2014). Bilbao: Servicio Editorial De La Universidad Del País Vasco. 274 Pp.". Deusto Journal of Human Rights, no. 3 (December), 215-19. https://doi.org/10.18543/djhr-3-2018pp215-219.
Deusto Journal of Human Rights / Revista Deusto de Derechos Humanos is an Open Access journal; which means that it is free for full and immediate access, reading, search, download, distribution, and reuse in any medium only for non-commercial purposes and in accordance with any applicable copyright legislation, without prior permission from the copyright holder (University of Deusto) or the author; provided the original work and publication source are properly cited (Issue number, year, pages and DOI if applicable) and any changes to the original are clearly indicated. Any other use of its content in any medium or format, now known or developed in the future, requires prior written permission of the copyright holder.