GARCÍA MINGO, Elisa. 2017. Zomo Newen. Relatos de vida de mujeres mapuche en su lucha por los derechos indígenas. Santiago: LOM Ediciones, 278 pp.
Carola Andrea Pinchulef Calfucura

Universidad Autónoma Metropolitana Iztapalapa
Abstract
Zomo newen, libro coordinado por Elisa García Mingo, es la primera publicación que visibiliza la resistencia del pueblo mapuche desde la lucha femenina indígena. A través de ocho historias de vida donde cada protagonista es autora de su relato y co-autora de esta obra, además, de la voz de García Mingo quién se encarga de articular estas experiencias de resistencia por medio de un hilo argumentativo teórico-práctico en torno a las formas de violencia que enfrenta la lucha femenina mapuche en Chile en la defensa de demandas específicas de su género y los derechos de los pueblos al interior de una sociedad impregnada por el racismo, el clasismo y la violencia machista. La metodología empleada es de carácter cualitativa, contempló un trabajo de campo antropológico de observación, revisión de fuentes documentales sobre la lucha del pueblo mapuche y las mujeres, así como la compilación de historias de vida.
Published online: 11 December 2018
Downloads
Download data is not yet available.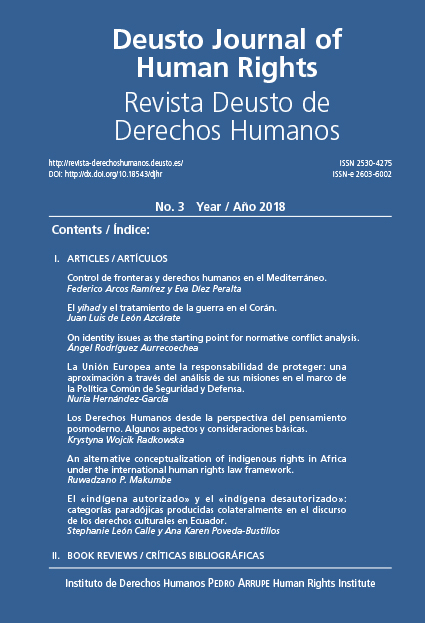 How to Cite
Pinchulef Calfucura, Carola Andrea. 2018. "GARCÍA MINGO, Elisa. 2017. Zomo Newen. Relatos De Vida De Mujeres Mapuche En Su Lucha Por Los Derechos indígenas. Santiago: LOM Ediciones, 278 Pp.". Deusto Journal of Human Rights, no. 3 (December), 203-8. https://doi.org/10.18543/djhr-3-2018pp203-208.
Deusto Journal of Human Rights / Revista Deusto de Derechos Humanos is an Open Access journal; which means that it is free for full and immediate access, reading, search, download, distribution, and reuse in any medium only for non-commercial purposes and in accordance with any applicable copyright legislation, without prior permission from the copyright holder (University of Deusto) or the author; provided the original work and publication source are properly cited (Issue number, year, pages and DOI if applicable) and any changes to the original are clearly indicated. Any other use of its content in any medium or format, now known or developed in the future, requires prior written permission of the copyright holder.