SOLANES CORELLA, Ángeles (ed). 2016. Diversidad cultural y conflictos en la Unión Europea. Implicaciones jurídico-políticas. Valencia: Tirant lo Blanch, (2015, 1.ª Edición), (2016, 2.ª Edición)
María José Aguilar Idáñez

Universidad de Castilla-La Mancha (UCLM)
Abstract
Los múltiples desafíos que plantean las sociedades culturalmente diversas, hacen que sea imprescindible afrontar diferentes conflictos complejos y multidimensionales. Surgen así debates en el ámbito social, político y jurídico acerca de cómo articular la diferencia minimizando las tensiones y enfocándola desde una perspectiva positiva. Con la pretensión de identificar y buscar alternativas a dichas controversias, surgió el proyecto «Derechos humanos, sociedades multiculturales y conflictos» (DER2012-31771), denominado Multihuri, dirigido desde la Universitat de València por Ángeles Solanes y financiado por el Ministerio de Economía y Competitividad. En el marco del mismo, el 2 y 3 de octubre de 2014, los profesores que integraban el equipo de trabajo organizaron en Valencia el I Congreso Internacional sobre diversidad cultural y conflictos en la Unión Europea, reuniendo expertos nacionales e internacionales en la materia. Los trabajos revisados de dicho congreso, con las valiosas aportaciones que se hicieron en el desarrollo del mismo, son las que recoge este volumen.
Published online: 11 December 2017
Downloads
Download data is not yet available.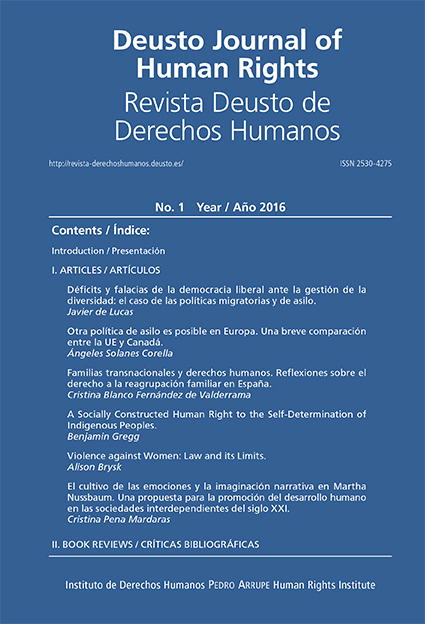 How to Cite
Aguilar Idáñez, María José. 2017. "SOLANES CORELLA, Ángeles (ed). 2016. Diversidad Cultural Y Conflictos En La Unión Europea. Implicaciones jurídico-políticas. Valencia: Tirant Lo Blanch, (2015, 1.ª Edición), (2016, 2.ª Edición)". Deusto Journal of Human Rights, no. 1 (December), 203-5. https://doi.org/10.18543/djhr-1-2016pp203-205.
Deusto Journal of Human Rights / Revista Deusto de Derechos Humanos is an Open Access journal; which means that it is free for full and immediate access, reading, search, download, distribution, and reuse in any medium only for non-commercial purposes and in accordance with any applicable copyright legislation, without prior permission from the copyright holder (University of Deusto) or the author; provided the original work and publication source are properly cited (Issue number, year, pages and DOI if applicable) and any changes to the original are clearly indicated. Any other use of its content in any medium or format, now known or developed in the future, requires prior written permission of the copyright holder.