URRUTIA ASUA, Gorka. 2016. Minorías religiosas y derechos humanos. Reconocimiento social y gestión pública del pluralismo religioso en el País Vasco, Madrid: Akal, 332 pp.
Asier Martínez de Bringas

Universidad de Deusto
Abstract
La presencia de confesiones no católicas en la sociedad vasca es un fenómeno relativamente reciente, cuya emergencia y desarrollo ha contribuido a una nueva pluralidad religiosa que no ha sido plenamente constatable hasta fechas recientes y cuyo encaje social ha planteado ciertas dificultades. Si bien existe un reconocimiento jurídico de la libertad religiosa, el hecho es que, desde una perspectiva social e institucional, la aceptación de las entidades que la hacen efectiva en la vida pública no es muy alta. El trabajo que aquí presentamos se enmarca en toda una reciente serie de publicaciones derivadas de diversos estudios e investigaciones sobre las religiones minoritarias en España así como las problemáticas que se vienen derivando de su gestión pública.
Published online: 11 December 2017
Downloads
Download data is not yet available.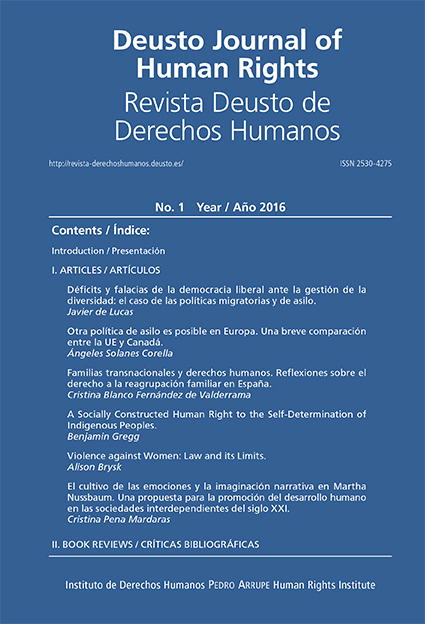 How to Cite
Martínez de Bringas, Asier. 2017. "URRUTIA ASUA, Gorka. 2016. Minorías Religiosas Y Derechos Humanos. Reconocimiento Social Y gestión Pública Del Pluralismo Religioso En El País Vasco, Madrid: Akal, 332 Pp.". Deusto Journal of Human Rights, no. 1 (December), 201-2. https://doi.org/10.18543/djhr-1-2016pp201-202.
Deusto Journal of Human Rights / Revista Deusto de Derechos Humanos is an Open Access journal; which means that it is free for full and immediate access, reading, search, download, distribution, and reuse in any medium only for non-commercial purposes and in accordance with any applicable copyright legislation, without prior permission from the copyright holder (University of Deusto) or the author; provided the original work and publication source are properly cited (Issue number, year, pages and DOI if applicable) and any changes to the original are clearly indicated. Any other use of its content in any medium or format, now known or developed in the future, requires prior written permission of the copyright holder.