Emotional developement and narrative imagination in Martha Nussbaum's works. Promoting human developement of interdependent societies in the 21st century
Cristina Pena Mardaras

University of Deusto
Keywords:
Nussbaum, human development, narrative imagination, emotions, novel
Abstract
Stories have a significant relevance in Martha Nussbaum's career and biography. They are closely related to the author's philosophical concerns and to her engagement towards human development. This article examines the link between those elements, and digs into the relevance of narrative imagination and the emotional development that expands the boundaries of the self. These emotions, as well as literary imagination, are key elements in order to promote a just social order that respects fundamental freedoms. They also show the way towards citizenship education that is needed in our interdependent and globalized world.
Received: 25 July 2016
Accepted: 30 November 2016
Published online: 11 December 2017
Downloads
Download data is not yet available.
References
Arjona Pachón, Gabriel Enrique. 2013, "Democracia y liberalismo político. La perspectiva de Martha Nussbaum". Colombia Internacional, n.º 78, 145-180, doi: http://doi.org/10.7440/colombiaint78.2013.06.
Aristóteles 1992. Poética. Madrid: Gredos.
Aristóteles. 2011. Ética a Nicómaco. Madrid: Gredos.
Birulés, Fina y Anabella Di Tullio. 2011. "Entrevista con Martha C. Nussbaum: Sin una ciudadanía independiente no podemos hablar de democracia, sino de alguna forma de fascismo". Barcelona Metrópolis, n.º 81, 18. Acceso el 28 de noviembre de 2016. http://lameva.barcelona.cat/bcnmetropolis/arxiu/es/pagee7c0.html?id=21&ui=473&prevNode=33&tagId=20.
Cortina, Adela. 2007. Ética de la razón cordial. Educar en la ciudadanía en el siglo XXI. Oviedo: Ediciones Nobel.
Damasio, Antonio. 2009. En busca de Spinoza. Neurobiología de la emoción y los sentimientos. Barcelona: Crítica.
Kuisz, Jaroslaw. 2014. "Conversaciones con Martha Nussbaum", Letras Libres, n.º 157. Acceso el 28 de noviembre de 2016. http://www.letraslibres.com/sites/default/files/kuisz_esp.pdf.
López de la Vieja, Mª Teresa. 1999. "Argumentos densos". Enrahonar, n.º 30, 45-55.
Murdoch, Iris. 2001. La soberanía del bien, Madrid: Caparrós.
Nussbaum, Martha C. 1995. La fragilidad del bien: fortuna y ética en la tragedia y la filosofía griega. Madrid: Visor.
Nussbaum, Martha C. 1997. Justicia poética: la imaginación literaria y la vida pública. Santiago de Chile: Andrés Bello.
Nussbaum, Martha C. 2005. El conocimiento del amor. Madrid: Machado Libros.
Nussbaum, Martha C. 2006. El ocultamiento de lo humano. Repugnancia, vergüenza y ley. Buenos Aires: Katz Editores.
Nussbaum, Martha C. 2008. Paisajes del pensamiento. Barcelona: Paidós.
Nussbaum, Martha C. 2010. Sin fines de lucro. Por qué la democracia necesita de las humanidades. Buenos Aires: Katz Editores.
Nussbaum, Martha C. 2012a. Crear capacidades: Propuesta para el desarrollo humano. Barcelona: Paidos.
Nussbaum, Martha C. 2012b. El cultivo de la humanidad. Una defensa clásica de la reforma en la educación liberal. Barcelona: Paidós.
Nussbaum, Martha C. 2012c. Las fronteras de la justicia. Consideraciones sobre la exclusión. Barcelona: Paidós.
Nussbaum, Martha C. 2013. "La ética de la virtud: Una categoría equívoca". Areté 11, n.º1-2: 573-613.
Nussbaum, Martha C. 2014. Emociones políticas: ¿por qué el amor es importante para la justicia?. Barcelona: Paidós.
Nussbaum, Martha C. 2015. Discurso en la recepción del Premio Príncipe de Asturias. Acceso el 28 de noviembre de 2016. http://www.fpa.es/es/premios-principe-de-asturias/premiados/2012-martha-c-nussbaum.html?texto=discurso&especifica=0.
Nussbaum, Martha C. y Amartya Sen (comp.) 1996, La calidad de vida. México: Fondo de Cultura Económica.
Quesada, Fernando. 1985. "Ética narrativa". Revista de Estudios Políticos, n.º 43: 186-196
Ricoeur, Paul. 1999. La identidad narrativa. Historia y narratividad. Barcelona: Paidós.
Ricoeur, Paul. 2006. "La vida: un relato en busca de narrador". Ágora 25, n.º 2: 9-22.
Vásquez Rocca, Adolfo. 2006. "Rorty: El giro narrativo de la ética o la filosofía como lenguaje literario". Universitas: Revista de Filosofía, Derecho y Política, n.º 3 173-180. Acceso el 28 de noviembre de 2016. http://universitas.idhbc.es/n03/03-07_vasquez.pdf.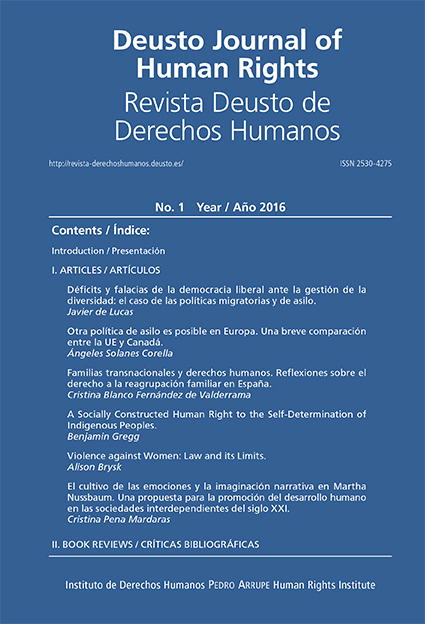 How to Cite
Pena Mardaras, Cristina. 2017. "Emotional Developement and Narrative Imagination in Martha Nussbaum's Works. Promoting Human Developement of Interdependent Societies in the 21st Century". Deusto Journal of Human Rights, no. 1 (December), 175-95. https://doi.org/10.18543/djhr-1-2016pp175-195.
Deusto Journal of Human Rights / Revista Deusto de Derechos Humanos is an Open Access journal; which means that it is free for full and immediate access, reading, search, download, distribution, and reuse in any medium only for non-commercial purposes and in accordance with any applicable copyright legislation, without prior permission from the copyright holder (University of Deusto) or the author; provided the original work and publication source are properly cited (Issue number, year, pages and DOI if applicable) and any changes to the original are clearly indicated. Any other use of its content in any medium or format, now known or developed in the future, requires prior written permission of the copyright holder.