Gender and political-religious ideology in victims reported in the Ecuador Truth Commission Report: an exploratory analysis
Carlos Reyes-Valenzuela

Universidad Andina Simón Bolívar, Ecuador

Gino Gondona-Opazo

Universidad Politécnica Salesiana, Ecuador

Marcelo Rodríguez

Universidad de Playa Ancha
Keywords:
gender, ideology, reported persons, human rights, Truth Commission Ecuador
Abstract
The present study explores gender differences in aspects related to political-religious ideology and emotional expression in people reported in the Report of the Truth Commission of Ecuador (ICVE), which compiled information on human rights violations in the period 1983-2008. Sixty-four direct victims participated, evaluating perception by political-religious ideology, assessment of the work of the Commission, affectivity and social sharing of emotions. The results identify statistically significant differences between men and women in the variables of age, ideology, evaluation of the ICVE and social inhibition (all p < .05). The implications of a gender analysis in subsequent phases of Truth Commission work in Latin America are discussed.
Recibido: 05 octubre 2021
Aceptado: 29 noviembre 2021
Downloads
Download data is not yet available.
References
Abramovich, Víctor. 2006. «Una aproximación al enfoque de derechos en las estrategias y políticas de desarrollo». Revista de la CEPAL 88, 35-50.
Abad, Irene. 2009. «Las dimensiones de la «represión sexuada» durante la dictadura franquista». En Dossier también la paz. Guerra Civil: las representaciones de la violencia, coordinado por Javier Rodrigo y Miguel Ángel Ruiz, 65-86. Utah: Universidad de Utah.
Aguirre, Andrés, Michelle Erazo, Clara Merino, Christian Paula y Mónica Vera. 2019. Ecuador sin justicia, sin verdad, sin reparación. Diez años de la Comisión de la Verdad. Quito: Fundación Regional de Asesoría en Derechos Humanos INREDH.
Arnoso, Maitane, Manuel Cárdenas, Darío Páez y Carlos Martín Beristain. 2014. «Paraguay: de las violaciones a los derechos humanos a la justicia transicional». Salud & Sociedad, 5, n. 1: 98-114.
Arnoso, Maitane, Manuel Cárdenas y Darío Páez. 2015. «Justicia transicional y predictores del perdón político en Chile». Revista Latinoamericana de Derechos Humanos 26, n. 1: 77-97.
Beristain, Carlos Martín, Darío Páez, Bernard Rimé y Patrick Kanyangara. 2010. «Efectos psicosociales de la participación en rituales de justicia transicional». Revista de Psicología Social 25: 47-60.
Block, Susan D. 2006. «Psychological issues in end-of-life care». Journal of Palliative Medicine 9, n. 3: 751-772.
Brounéus, Karen. 2008. «Truth-telling as talking cure? Insecurity and retraumatization in the Rwandan Gacaca courts». Security Dialogue 39, n. 1: 55-76.
Brussino, Silvina y María Inés Acuña. 2015. «Confianza política, valores sociales e ideología política de las elites de poder». Interdisciplinaria 32, n. 2: 223- 246.
Brussino, Silvina y Hugo Rabbia. 2007. «Posicionamientos ideológicos de quienes se ubican en el «centro» o «no poseen ideología»». Quaderns de Psicologia 18, n. 1: 107-118, DOI: http://dx.doi.org/10.5565/rev/qpsicologia.1333
Brussino, Silvina, Hugo Rabbia, Débora Imhoff y Ana Paz García. 2011. «Dimensión operativa de la ideología política en ciudadanos de Córdoba- Argentina». Psicología Política 43: 85-106.
Calderón, Alicia y Agustín Espinosa. 2006. «Ideología política, valores culturales y miedo a la muerte: Su impacto después de los atentados del 11 de Marzo». Psicología Política 32: 15-32.
Cárdenas, Manuel, Darío Páez, Maitane Arnoso y Bernard Rimé. 2013a. «Percepción del clima socioemocional y la confianza institucional en víctimas de violencia política: Valoración del impacto de la Comisión Nacional de Verdad y Reconciliación». Psykhe 22, n. 2: 111-127.
Cárdenas, Manuel, Darío Páez y Bernard Rimé. 2013b. «El impacto psicosocial de los procesos transicionales en Chile: evaluación de los efectos de las Comisiones Nacionales de «Verdad y Reconciliación» y «Prisión política y Tortura»». Revista de Psicología Social 28, n. 2: 145-156.
Cárdenas, Manuel, Darío Páez, Bernard Rimé, Marian Bilbao y Domingo Asún. 2014. «Personal emotions, emotional climate, social sharing, beliefs, and values among people affected and unaffected by past political violence». Peace and Conflict: Journal of Peace Psychology 20: 452-465.
Cárdenas, Manuel, Maitane Arnoso y Darío Páez. 2015. «Predictors of beliefs in intergroup forgiveness in a Chilean general population sample». The Spanish Journal of Psychology 18: 1-9.
Cárdenas, Manuel, Elena Zubieta, Darío Páez, Maitane Arnoso y Agustín Espinosa. 2016. «Determinantes de la aprobación del trabajo realizado por las Comisiones de Verdad y Reconciliación en el cono sur: un estudio comparativo». Revista de Psicología Social 31, n. 3: 423-462.
Carvacho, Héctor y Andrés Haye. 2008. «Configuración ideológica y estructura social: resucitando el tema desde la psicología política». Revista de Psicología 17, n. 2: 81-94.
Cohen, Jacob. 1998. Statistical power analysis for the behavioral sciences (2a ed.). Erlbaum: Hillsdale.
Comisión Interamericana de Derechos Humanos. 2015. «Estado de cumplimiento de las recomendaciones del Informe Final de la Comisión de la Verdad del Ecuador». Informe anual. Washington: OEA
Cuevas, Joshua A., y Bryan L. Dawson. 2021. «An integrated review of recent research on the relationships between religious belief, political ideology, authoritarianism, and prejudice». Psychological Reports 124, n. 3: 977- 1014.
Eagleton, Terry. 1997. Ideología: una introducción. Barcelona: Paidos Ibérica. Fernandez, Itziar, Elena Zubieta y Darío Páez. 2000. «Expresión e inhibición
emocional en diferentes culturas». Cultura y alexitimia: ¿Cómo expresamos aquello que sentimos? 73-98.
Folguera, Laia. 2014. Hombres maltratados: masculinidad y control social. Barcelona: Bellaterra.
Garssen, Bert y Eltica de Jager Meezenbroek. 2007. «Response to letter from P. Salander». Psychooncology 16: 93-94.
Gibson, James L. 2004. Overcoming Apartheid: Can truth reconcile a divided nation? New York: Russell Sage Foundation.
González, Roberto, Jorge Manzi y Masi Noor. 2013. «Identidad social y emociones intergrupales: antecedentes de las actitudes de perdón y reparación política en Chile». Psykhe 22, n. 2: 129-146.
Gyimah, Abigail. 2009. Gender and Transitional Justice in West Africa: The cases of Ghana and Sierra Leone. ALC Research Report N. 4.
Hamber, Brandon. 2007. «Reparations as symbol: Narratives of resistence, reticence, and possibility in South Africa». En Reparations: Interdisciplinary Inquiries, editado por Jon Miller y Rahul Kumar, 251-279, New York: Oxford University Press.
Hiner, Hillary. 2009. «Voces soterradas, violencias ignoradas: Discurso, violencia política y género en los Informes Rettig y Valech». Latin American Research Review 44, n. 3: 50-74.
Jelin, Elizabeth. 2001. «¿De qué hablamos cuando hablamos de memorias?». Los trabajos de la memoria. 1-17. Madrid: Siglo Veintiuno Editores.
Karstedt, Susanne. 2015. «The emotion dynamics of transitional justice: An emotion sharing perspective». Emotion Review 8, n.1: 50-55.
Leydesdorff, Selma, Luisa Passerini y Paul Thompson, 2017. «Introduction». En Gender & Memory: Memory and Narrative Series, editado por Selma Leydesdorff, Luisa Passerini y Paul Thompson, 1-22, New York: Routledge.
Lopera, Jenny. 2011. «Aproximaciones a la Justicia Transicional: interrogantes sobre su aplicabilidad en Colombia». Diálogos de Derecho y Política 7, n. 2: 1-14.
MacCormack, Carol. 2000. «Land, labor, and gender». En Gender Matters: Rereading Michelle Z. Rosaldo, editado por Alejandro Lugo y Bill Maurer, 37-53, Michigan: The University of Michigan Press.
Mantilla, Julissa. 2010. «La Comisión de la Verdad y Reconciliación en el Perú y la perspectiva de género: principales logros y hallazgos». Revista IIDH 43: 323-365.
Manzi, Adrián. 2009. «Una revisión epistemológica al concepto de ideología en psicología política». Cahiers de Psychologie Politique 15. https://doi.org/10.34745/numerev_366
Mathias, Anderson, Darío Páez, Agustín Espinosa, Salvador Sandoval, Carolina Alzugaray, Maitane Arnoso, Manuel Cárdenas, Silvia da Costa, Carlos Reyes, Bernard Rimé y Elena Zubieta. 2020. «The association between Truth Commissions evaluation, emotional climate and institutional trust: comparison and meta-analysis of surveys in six South American countries». International Journal of Social Psychology 35, n. 2: 203-245.
Mathias, Anderson, Darío Páez, Agustín Espinosa y Bernard Rimé. 2021. «Truth Comissions: individual and societal effects». En Transitioning to Peace. Promoting Global Social Justice and Non-violence, editado por Wilson López López y Laura K. Taylor, 29-42, Marion OH: Springer.
Mendia, Irantzu. 2012. «Justicia transicional: dilemas y crítica feminista». Cuadernos de Trabajo Hegoa 59. Bilbao: Hegoa.
Mendia, Irantzu, Gloria Guzmán e Iker Zirion. 2017. Género y Justicia Transicional. Movimientos de mujeres contra la impunidad. Bilbao: Hegoa.
Mendia, Irantzu. 2020. Enfoque de género en las comisiones de la verdad. Experiencias en América Latina y África. Bilbao: Hegoa.
Monge, Elsie, Julio C. Trujillo, Luis Luna y Pedro Restrepo. 2010. Informe de la Comisión de la Verdad Sin Verdad no hay Justicia. Quito: Ediecuatorial.
Oficina del Alto Comisionado de las Naciones Unidas para los Derechos Humanos. 2006. Instrumentos del Estado de derecho para sociedades que han salido de un conflicto. Comisiones de la verdad. New York: Naciones Unidas.
Páez, Darío, Nekane Basabe, Silvia Ubillos y José Luis González. 2007. «Social sharing, participations in demonstrations, emotional climate and coping with collective violence after march 11th Madrid bombings». Journal of Social Issues 63, n. 2: 323-337.
Páez, Darío, Agustín Espinosa y Carlos Beristain. 2015. «Dossier sobre el impacto psicosocial de las comisiones de la verdad y otros procesos de justicia transicional en países de América Latina». Psicologia Política 15, n. 32: 97-100.
Pargament, Kenneth I., Bruce W. Smith, Harold G. Koenig y Lisa Perez. (1998). «Patterns of positive and negative religious coping with major life stressors». Journal for the scientific study of religion 37, n. 4: 710-724.
Piurko, Yuval, Shalom H. Schwartz y Eldad Davidov. 2011. «Basic personal values and the meaning of left-right political orientations in 20 countries». Political Psychology 32, n. 4: 537-561.
Reyes-Valenzuela, Carlos, Gino Grondona y Marcelo Rodríguez. 2015. «Evaluación del Impacto de la Comisión de la Verdad en Ecuador: aportes psicosociales en la actual discusión sobre la reparación a las víctimas». Revista Psicologia Política 15, n. 32: 119-136.
Reyes-Valenzuela, Carlos, Gino Grondona-Opazo y Marcelo Rodríguez. 2018. «Crecimiento postraumático en victimas informadas por la Comisión de la Verdad de Ecuador». Revista Interamericana de Psicología 52, n. 3: 379- 389.
Reyes-Valenzuela, Carlos, Joselyn Bustillos, Andrés Aguirre, Rodrigo Moreta- Herrera, Andrés Durán, Katherine Maturana y Loreto Villagrán. 2021. «Cumplimiento de medidas de reparación y construcción de cultura de paz en Ecuador y Chile». Revista de Psicología 39, n. 2: 590-624.
Rimé, Bernard. 2009. «Emotion elicits the social sharing of emotion: Theory and empirical review». Emotion Review 1: 60-85.
Rimé, Bernard. 2012. La compartición social de las emociones. Bilbao: Desclée de Brouwer.
Rime, Bernard, Batja Mesquita, Pierre Philippot y Stefano Boca. 1991. «Beyond the emotional event: Six studies on the social sharing of emotion». Cognition & Emotion 5, n. 5-6: 435-465.
Rimé, Bernard, Patrick Kanyangara, Vicent Yzerbyt y Darío Páez. 2011. «The impact of Gacaca tribunals in Rwanda: Psychosocial effects of participation in a truth and reconciliation process after a genocide». European Journal of Social Psychology 41, n. 6: 695-706.
Rojas-Solís, José Luis, Mayte Guzmán-Pimentel, Margarita P. Jiménez-Castro, Laura Martínez-Ruiz y Bibiana G. Flores-Hernández. 2019. «La violencia hacia los hombres en la pareja heterosexual: Una revisión de revisiones». Ciencia y sociedad 44, n. 1: 57-70.
Rosaldo, Michelle Zimbalist, Louise Lamphere y Joan Bamberger. 1974. Woman, culture, and society. vol. 133. Nueva York: Stanford University Press.
Rosaldo, Michelle Zimbalist. 1980. «The use and abuse of anthropology: reflections on feminism and cross-cultural understanding». Signs: Journal of Women in Culture and Society 5, n. 3: 389-417.
Salgado, Judith. 2013. Derechos humanos y género. Quito: Editorial IAEN.
Sarkin, Jeremy y Sarah Ackermann. 2019. «Understanding the extent to which Truth Commissions are gender sensitive and promote women's issues: Comparing and contrasting these Truth Commission roles in South Africa, Guatemala, Peru, Sierra Leone and Liberia». Georgetown Journal of International Law 50, n. 2: 463-516.
Solís-Chiriboga, María Cristina. 2018. «Reparación a víctimas de violación de derechos humanos y crímenes de lesa humanidad en Ecuador». Íconos. Revista de Ciencias Sociales 62: 183-201.
Truñó i Salvadó, Maria. 2010. Reflexiones sobre la categoría de víctima de violencia política con mirada de género. Barcelona: Institut Català Internacional per la Pau.
Valobra, Adriana María. 2015. «El Estado y las mujeres, concepciones en clave feminista». Estudios Sociales del Estado 1, n. 2: 32-57.
Wallach, Joan. 2008. Género e historia. Ciudad de México: Fondo de Cultura Económica.
Wood, Elizabeth J. 2009. «Violencia sexual durante la guerra: hacia un entendimiento de la variación». Análisis Político 66: 3-27.
Zubieta, Elena, Juan I. Bombelli y Marcela Muratori. 2015. «Argentina: el impacto de la implementación de medidas de justicia transicional post dictadura», Psicologia Política 15, n. 32: 101-118.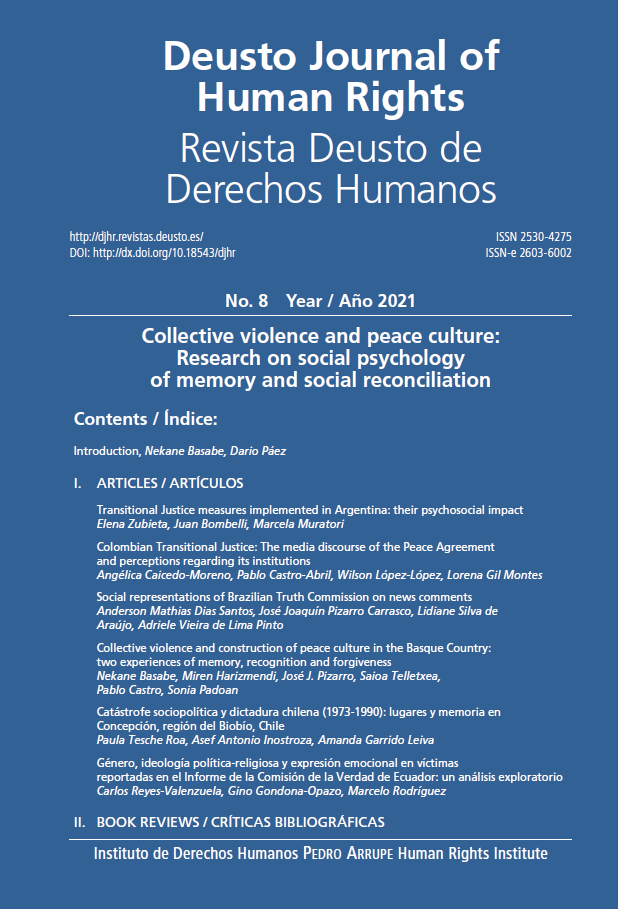 How to Cite
Reyes-Valenzuela, Carlos, Gino Gondona-Opazo, and Marcelo Rodríguez. 2021. "Gender and Political-Religious Ideology in Victims Reported in the Ecuador Truth Commission Report: An Exploratory Analysis". Deusto Journal of Human Rights, no. 8 (December), 153-76. https://doi.org/10.18543/djhr.2291.
Deusto Journal of Human Rights / Revista Deusto de Derechos Humanos is an Open Access journal; which means that it is free for full and immediate access, reading, search, download, distribution, and reuse in any medium only for non-commercial purposes and in accordance with any applicable copyright legislation, without prior permission from the copyright holder (University of Deusto) or the author; provided the original work and publication source are properly cited (Issue number, year, pages and DOI if applicable) and any changes to the original are clearly indicated. Any other use of its content in any medium or format, now known or developed in the future, requires prior written permission of the copyright holder.