The rights of nature in intercultural dialogue: a look at jurisprudence on the Andean páramos and Indian glaciers
Adriana Rodríguez Caguana

Universidad Andina Simón Bolívar

Viviana Morales Naranjo

Universidad de las Américas
Keywords:
moors, glaciers, bioculturality, rights of nature, participation
Abstract
The Andes and Himalayan mountain ranges have biocultural characteristics in common, as they are sources of water in biodiverse territories and are home to thousands of peasant and indigenous families. However, they are in evident danger due to large-scale extractivism. Hence, the high courts of Ecuador, Colombia and India felt compelled to pass new legislation in the face of the ecological and cultural crisis facing their mountain ranges. From an intercultural approach, the jurisprudence of these three biodiverse States, which have been strongly impacted by anthropocentric activities, will be critically analysed. In addition, this article will also demonstrate the importance of developing the content of the rights of nature and the rights of community participation from a biocultural perspective.
Received: 08 April 2020
Accepted: 02 October 2020
Downloads
Download data is not yet available.
References
Ávila, Ramiro. 2019. La utopía del oprimido, los derechos de la naturaleza y el buen vivir en el pensamiento crítico, el derecho y la literatura. México D.F.: Akal.
Ávila, Ramiro. 2016. El neoconstitucionalismo andino. Quito: Huaponi.
Bavikatte Kabir S. y Tom Bennett. 2015. «Community stewardship: the foundation of biocultural rights». Journal of human rights and the environment 1: 7-29.
Cañón Dora y Mojica Yuly. 2017. «El oro o el agua, el caso del páramo de Santurbán», Questionar: Investigación Específica 5, n.º 11: 105-119.
Castro de Viveiros, Eduardo. 2013. La mirada del jaguar: Introducción al perspectivismo amerindio. Buenos Aires: Tinta limón.
Echeverría, Bolívar. 2009. «¿Qué es la modernidad?», Cuadernos del seminario Modernidad: Versiones y Dimensiones. México, D.F.: UNAM.
Escobar, Arturo. 2012. Más allá del tercer mundo, globalización y diferencia. Bogotá: Instituto colombiano de antropología e historia.
Fikret, Berkes. 1999. Sacred Ecology: Traditional ecological knowledge and resource management. Philadelphia: Taylor & Francis.
Fornet-Betancourt, Raúl. 2006. La interculturalidad a prueba. Michigan: Mainz.
Fornet-Betancourt, Raúl. 2002. «Lo intercultural: el problema de su definición», Pasos 103: 1-3.
Gangaaction.org. 2020. «Ganga in Scriptures». Acceso el 1 de enero de 2020. https://www.gangaaction.org/about-ganga/national-heritage/ganga-inscriptures/
Gopal, Sharma, 2019. «Derretimiento de Himalaya afectará ríos y cultivos en Asia: estudio» Reuters, 4 de febrero. Acceso el 20 de marzo de 2020. https://lta.reuters.com/articulo/clima-himalayas-idLTAKCN1PT1HI
Gudynas, Eduardo. 2013. «Extracciones, extractivismos y extrahecciones. Un marco conceptual sobre la apropiación de recursos naturales», Observatorio del Desarrollo 18.
Hofstede, Robert, Juan Calles, Víctor López, Rocío Polanco, Fidel Torres, Janett Ulloa, Adriana Vásquez y Marcos Cerra. 2014. «Los páramos andinos. ¿Qué sabemos? Estado de conocimiento sobre el impacto del cambio climático en el ecosistema páramo», UICN 156: 1-79.
Izquierdo, Belkis y Lieselotte Viaene. 2018. «Descolonizar la justicia transicional desde los territorios indígenas». Peace in Progress 34: 15-40.
Jiménez, Catalina. 2014. «El caso del páramo de Santurbán: Accountabilty social exitoso», Revista Zero 32: 10-20.
Leff, Enrique, 2002. «La geopolítica de la biodiversidad y el desarrollo sustentable: economización del mundo, racionalidad ambiental y reapropiación social de la naturaleza». Debates 17: 203-233.
Mayorga, Fernando. 2013. «Democracia intercultural y representación política en las autonomías departamentales e indígenas», en L'Âge d'or. Images dans le monde ibérique et ibéricoaméricain 6: 1-13.
Ministerio del Ambiente de Ecuador. 2012. Sistema de clasificación de los Ecosistemas del Ecuador Continental. Quito: MAE.
Morales-Betancourt, Juan y Jaime Estévez. 2006. «El páramo: ¿ecosistema en vía de extinción?», Revista Luna Azul 22: 15-35.
Mulet, Caridad e Isabel Castanedo. 2002. «La participación comunitaria y el medio ambiente». Revista Cubana de Enfermería 2: 1-20.
Niembro, Roberto. 2013. «Una mirada al constitucionalismo popular», Isonomía 38: 191-224.
Olmos, Juan David. 2018. «Colombia: los miedos que genera la delimitación del páramo de Pisba». Semana Sostenible, 24 de septiembre. Acceso el 17 de octubre de 2019. https://es.mongabay.com/2018/09/paramo-de-pisbaproblema-social-colombia/
Pérez, Carlos, Lilia Zizumbo y Miguel González. 2009. «Impacto ambiental del turismo en áreas naturales protegidas; procedimiento metodológico para el análisis en el Parque Estatal El Ocotal». Revista El Periplo Sustentable 16: 20-40.
Quijano, Aníbal. 2000. «Colonialidad del poder, eurocentrismo y América Latina», en La colonialidad del saber: eurocentrismo y ciencias sociales. Perspectivas latinoamericanas. Buenos Aires: CLACSO-UNESCO.
Rodríguez, Adriana. 2017. El largo camino del Taki Unkuy. Los derechos lingüísticos y culturales de los pueblos indígenas del Ecuador. Quito: Huaponi.
Semana Sostenible. 2018. «Los 9 municipios que le dijeron No a la minería usando la consulta popular», Semana Sostenible, 12 de octubre. Acceso el 17 de octubre de 2019. https://sostenibilidad.semana.com/medioambiente/articulo/los-9-municipios-que-le-dijeron-no-a-la-mineria-usandola-consulta-popular/41872
Serrano, David y Remigio Galárraga. 2015. «El páramo andino: características territoriales y estado ambiental. Aportes interdisciplinarios para su conocimiento», Estudios geográficos 76, n.º 1278: 10-30.
Surrallés, Alexandre. 2009. «Entre derecho y realidad: antropología y territorios indígenas amazónicos en un futuro próximo». Bulletin de l'Institut français d'études andines 38: 18-38.
Tapia, José. 2019. «Extractivismo en Ecuador. ingreso económico y derechos de la naturaleza», Cálamo, Revista de Estudios Jurídicos 11: 38-51
Trujillo, Carmen, José Moncada, Jesús Aranguren y Kennedy Lomas. 2018. «Significados del agua para la comunidad indígena Fakcha Llakta, cantón Otavalo». Revista Ambiente & Sociedade 21: 20-50.
UNESCO. 2005. Patrimonio mundial en manos de jóvenes. Conocer, atesorar y actuar. París: UNESCO
Walsh, Catherine. 2009. Interculturalidad, Estado, sociedad, luchas (de) coloniales de nuestra época. Quito: Abya Yala-UASB.
Zhagui, Julio y César Ruiz. 2018. «Formas comunicacionales de resistencia indígena campesina frente al Proyecto Minero Kimsakocha en Ecuador», Ciencia e Interculturalidad 23, n.º 12: 16-36.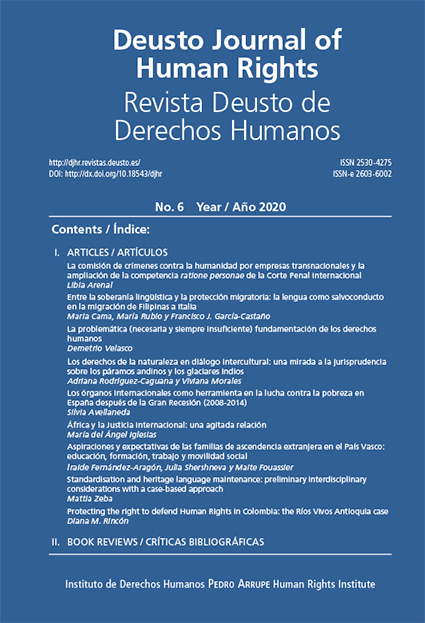 How to Cite
Rodríguez Caguana, Adriana, and Viviana Morales Naranjo. 2020. "The Rights of Nature in Intercultural Dialogue: A Look at Jurisprudence on the Andean páramos and Indian Glaciers". Deusto Journal of Human Rights, no. 6 (December), 99-123. https://doi.org/10.18543/djhr.1909.
Deusto Journal of Human Rights / Revista Deusto de Derechos Humanos is an Open Access journal; which means that it is free for full and immediate access, reading, search, download, distribution, and reuse in any medium only for non-commercial purposes and in accordance with any applicable copyright legislation, without prior permission from the copyright holder (University of Deusto) or the author; provided the original work and publication source are properly cited (Issue number, year, pages and DOI if applicable) and any changes to the original are clearly indicated. Any other use of its content in any medium or format, now known or developed in the future, requires prior written permission of the copyright holder.