Paasi, Anssi, Eeva-Kaisa Prokkola, Jarkko Saarinen y Kaj Zimmerbauer (eds). 2019. Borderless worlds for whom? Ethics, moralities and mobilities. Londres: Routledge. 238 p.
Daniela Lo Coco

Universidad de Deusto
Abstract
Las fronteras ¿para quién se construyen? ¿Dónde están? ¿Sirven para algo en este mundo globalizado y frenéticamente móvil? ¿Por qué algunas personas mueren tratando de atravesarlas y otras atraviesan el mundo para irse de vacaciones sin problemas? ¿Cómo se justifica esta desigualdad? El estudio ético y moral de las fronteras y la movilidad humana es hoy más necesario que nunca. Las fronteras se han convertido en mecanismos que están abiertos y cerrados simultáneamente donde el sistema de exclusas se abre o se cierra dependiendo de quien intente atravesarlas ¿Qué explicación subyace a este abrirse o cerrarse? ¿Qué consecuencias de inclusión o exclusión genera? Estas preguntas nos llevan necesariamente al cuestionamiento de los procesos de fronterización, securitización y sus consecuencias en la vida y la política, en el acceso a derechos y los procesos de exclusión. Este libro ofrece un planteamiento ético y moral absolutamente necesario en un mundo donde las fronteras parecen estar más presentes que nunca.
Published online: 26 June 2020
Downloads
Download data is not yet available.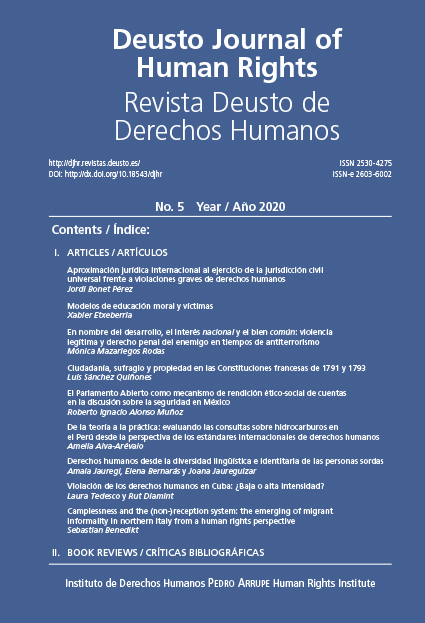 How to Cite
Lo Coco, Daniela. 2020. "Paasi, Anssi, Eeva-Kaisa Prokkola, Jarkko Saarinen Y Kaj Zimmerbauer (eds). 2019. Borderless Worlds for Whom? Ethics, Moralities and Mobilities. Londres: Routledge. 238 P.". Deusto Journal of Human Rights, no. 5 (June), 276-82. https://doi.org/10.18543/djhr.1797.
Deusto Journal of Human Rights / Revista Deusto de Derechos Humanos is an Open Access journal; which means that it is free for full and immediate access, reading, search, download, distribution, and reuse in any medium only for non-commercial purposes and in accordance with any applicable copyright legislation, without prior permission from the copyright holder (University of Deusto) or the author; provided the original work and publication source are properly cited (Issue number, year, pages and DOI if applicable) and any changes to the original are clearly indicated. Any other use of its content in any medium or format, now known or developed in the future, requires prior written permission of the copyright holder.