From theory to practice: evaluating consultation on hydrocarbon projects in Peru from the perspective of international human rights standards
Amelia Alva-Arévalo

Ghent University
Keywords:
Peru, prior consultation, consent, hydrocarbons, indigenous peoples
Abstract
This article analyses the minutes of the prior consultation processes on hydrocarbon projects, with the aim of determining whether the Peruvian State complied with international human rights standards or, on the contrary, whether the right to prior consultation was reduced to an informative process that legitimized the Peruvian State to proceed with the exploration or exploitation of hydrocarbons in indigenous territories. The minutes belong to the Internal Evaluation and Dialogue stages of the consultation processes. The Internal Evaluation Minutes contain reflection and deliberation of the indigenous communities on the proposed measure. The Consultation Minutes describe the complete or partial agreements, reached during the dialogue stage, between representatives of the indigenous communities, who transmit the content of the Internal Evaluation Minutes, and the representatives of the entity that promotes the approval of the measure.
Received: 06 March 2020
Accepted: 14 May 2020
Published online: 26 June 2020
Downloads
Download data is not yet available.
References
Alva-Arévalo, Amelia. 2019. «A critical evaluation of the domestic standards of the right to prior consultation under the United Nations Declaration on the Rights of Indigenous Peoples. Lessons from the Peruvian case», The International Journal of Human Rights, 23 (1-2): 234-248.
Balbuena, Patricia. 2016. «Los límites del diseño de la consulta previa: ¿estamos cerca del techo de cristal?». En La implementación del derecho a la consulta previa en Perú. Aportes para el análisis y la garantía de los derechos colectivos de los pueblos indígenas, editado por Karina Vargas, Lima: GIZ: 103-113.
Coordinadora Nacional de Derechos Humanos. 2019. ¿Y los pueblos indígenas en el Perú?: Cumplimiento de las obligaciones del Estado peruano a 30 años del Convenio 169 de la OIT, Lima: Sonimágenes del Perú.
Doyle, Cathal M. 2015. Indigenous peoples, title to territory and resources: the transformative role of free, prior and informed consent, Nueva York: Routledge.
ILO. 2016. Procedures for consultation with indigenous peoples: Experiences from Norway, Ginebra: OIT.
Ministerio de Cultura. 2014. La implementación del derecho a la consulta previa en el sector de hidrocarburos. La experiencia de los lotes 169 y 195, Lima: Ministerio de Cultura.
Ministerio de Cultura. 2015. La implementación de la consulta en el sector de hidrocarburos: la experiencia de los procesos de consulta de los lotes 164, 189 y 175, Lima: Ministerio de Cultura.
Stavenhagen, Rodolfo. 2006. Relator Especial de las Naciones Unidas sobre los Derechos de los Pueblos Indígenas, UN Doc. E/CN.4/2006/78.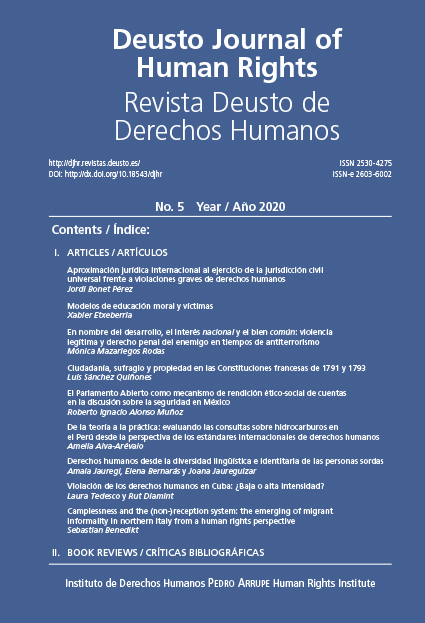 How to Cite
Alva-Arévalo, Amelia. 2020. "From Theory to Practice: Evaluating Consultation on Hydrocarbon Projects in Peru from the Perspective of International Human Rights Standards". Deusto Journal of Human Rights, no. 5 (June), 155-86. https://doi.org/10.18543/djhr.1793.
Deusto Journal of Human Rights / Revista Deusto de Derechos Humanos is an Open Access journal; which means that it is free for full and immediate access, reading, search, download, distribution, and reuse in any medium only for non-commercial purposes and in accordance with any applicable copyright legislation, without prior permission from the copyright holder (University of Deusto) or the author; provided the original work and publication source are properly cited (Issue number, year, pages and DOI if applicable) and any changes to the original are clearly indicated. Any other use of its content in any medium or format, now known or developed in the future, requires prior written permission of the copyright holder.