DICK, Kirby and ZIERING, Amy. 2016. The Hunting Ground. The inside story of sexual assault on American college campuses. México: Hot Books, 188 pp.
Ana Vidu

University of Deusto
Abstract
The Hunting Ground started to initially be a documentary released in 2015 daring to present on the big screen, the sexual violence on the United States college campuses. The filmmakers Kirby Dick and Amy Ziering were the Academy Award winners of the film "The Invisible war", which tackles the sexual violence happening in the army context. While they were running along the United States college campuses screening "The Invisible War" and discussing about the silence perpetuated into the army, students were raising their hands from the public, claiming the gender violence also exits within the academy. According to its producers, The Hunting Ground is the consequence of directly interviewing around 70 people on camera and more than 200 in off-camera dialogues. One year after its first release, the documentary's impact was uncountable. The visionary of this documentary at each university, contributed to trigger discussion about the issue of sexual harassment, started activism among its community and initiating change.
Published online: 11 December 2018
Downloads
Download data is not yet available.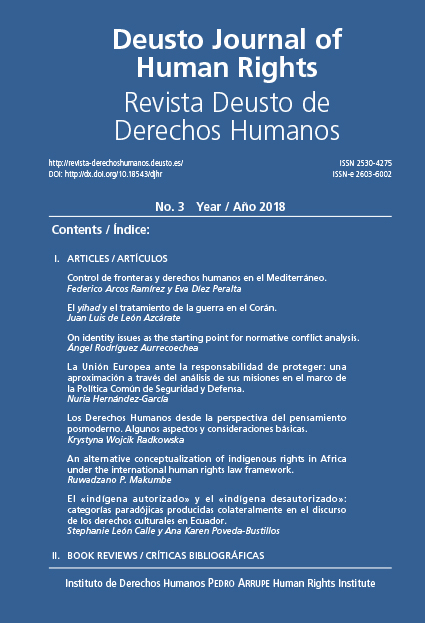 How to Cite
Vidu, Ana. 2018. "DICK, Kirby and ZIERING, Amy. 2016. The Hunting Ground. The Inside Story of Sexual Assault on American College Campuses. México: Hot Books, 188 Pp.". Deusto Journal of Human Rights, no. 3 (December), 209-14. https://doi.org/10.18543/djhr-3-2018pp209-214.
Deusto Journal of Human Rights / Revista Deusto de Derechos Humanos is an Open Access journal; which means that it is free for full and immediate access, reading, search, download, distribution, and reuse in any medium only for non-commercial purposes and in accordance with any applicable copyright legislation, without prior permission from the copyright holder (University of Deusto) or the author; provided the original work and publication source are properly cited (Issue number, year, pages and DOI if applicable) and any changes to the original are clearly indicated. Any other use of its content in any medium or format, now known or developed in the future, requires prior written permission of the copyright holder.