The coherence between the regulatory frameworks of United Nations, the EU and Spanish State. The case of development cooperation policies and the external dimension of migratory policy
Keywords:
coherence, regulatory frameworks, development cooperation, migratory policy
Abstract
This article aims to clarify the coherence between the policies of cooperation and migration of the Spanish State as a member of the EU and the United Nations. We have considered the crossroads of the concepts of development, migration and cooperation development in the scope of work of the CPD, which advocates shared responsibility in the field of migration and development. If the objective of the development cooperation is the creation of conditions that favour the development of societies and people in conditions of poverty and exclusion, are the migration policies consistent with this objective? What degree of inconsistency are we willing to take?
Received: 31 May 2015
Accepted: 15 October 2015
Published online: 11 December 2017
Downloads
Download data is not yet available.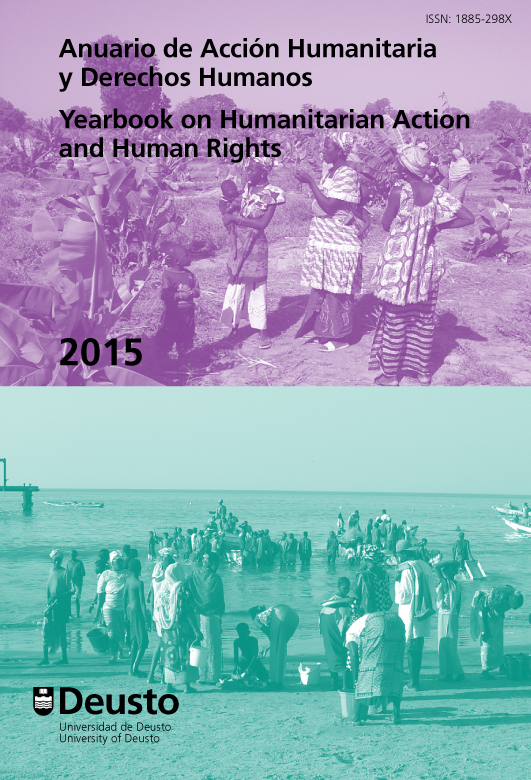 How to Cite
Azkona, Nerea. 2017. "The Coherence Between the Regulatory Frameworks of United Nations, the EU and Spanish State. The Case of Development Cooperation Policies and the External Dimension of Migratory Policy". Deusto Journal of Human Rights, no. 13 (December), 189-217. https://doi.org/10.18543/aahdh-13-2015pp189-217.
Deusto Journal of Human Rights / Revista Deusto de Derechos Humanos is an Open Access journal; which means that it is free for full and immediate access, reading, search, download, distribution, and reuse in any medium only for non-commercial purposes and in accordance with any applicable copyright legislation, without prior permission from the copyright holder (University of Deusto) or the author; provided the original work and publication source are properly cited (Issue number, year, pages and DOI if applicable) and any changes to the original are clearly indicated. Any other use of its content in any medium or format, now known or developed in the future, requires prior written permission of the copyright holder.