Collective violence and the culture of peace: researching the social psychology of memory and social reconciliation
Introduction to the monograph
Nekane Basabe

University of the Basque Country, Spain

Darío Páez

University of the Basque Country, Spain
Keywords:
collective violence, culture of peace, social reconciliation, transitional justice, truth commissions, intergroup forgiveness
Abstract
This monograph aims to disseminate the results of various research studies carried out in the field of social and community psychology. The studies focus on efforts to build a culture of peace in post-conflict contexts and societies that have suffered collective and socio-political violence, with multiple and persistent human rights violations. Six studies on the psychosocial effects of transitional justice rituals from Argentina, Colombia, Brazil, Basque country, Chile, and Ecuador compose this issue. This issue presents a series of results regarding the effects of reparation rituals and Truth Commissions, combining different methods and analysis strategies, including general population surveys, newspaper and social media content analysis, community intervention assessments and qualitative documentary analysis. Finally, two review books were included. First, a Peace Psychology Book that explores the implications and difficulties faced by societies that have experienced large-scale collective violence. Second, the problem of human rights violations and how to confront them, socio-political conflicts and the building of a culture of democracy and peace in Latin America are transversal axes of the chapters of this second book.
Downloads
Download data is not yet available.
References
Čehajić-Clancy, Sabina, Amit Goldenberg, James J. Gross, and Eran Halperin. 2016. Social-Psychological Interventions for Intergroup Reconciliation: An Emotion Regulation Perspective, Psychological Inquiry, 27, no 2: 73-88. https://doi.org/10.1080/1047840X.2016.1153945.
Gibson, James L. 2004. Overcoming Apartheid: Can Truth Reconcile a Divided Nation? New York: Russell Sage Foundation.
Halbwachs, Maurice 1950/1968. La mémoire Collective. París: PUF.
López López Wilson and Laura K. Taylor, eds. 2021. Transitioning to Peace: Promoting Global Social Justice and Non-violence. Springer: Cham.
Martín-Beristain, Carlos, Dario Páez, Bernard Rimé, and Patric Kanyangara. 2010a. «Psychosocial effects of participation in rituals of transitional justice: A collective-level analysis and review of the literature of the effects of TRCs and trials on human rights violations in Latin America.» Journal of Social Psychology 25, no 1: 47-60. https://doi.org/10.1174/021347410790193450.
Páez, Darío, Carlos Martin-Beristain, José Luis González, Nekane Basabe, and Joseph de Rivera. 2011. Superando la Violencia Colectiva y Construyendo Cultura de Paz. Madrid: Fundamentos.
Rimé, Bernard, Patrick Kanyangara, Vincent Yzerbyt, and Dario Paez. 2011. «The impact of Gacaca Tribunals in Rwanda: Psychosocial effects of participation in a truth and reconciliation process after a genocide.»
European Journal of Social Psychology 41, no. 6: 695-706. https://doi.org/10.1002/ejsp.822.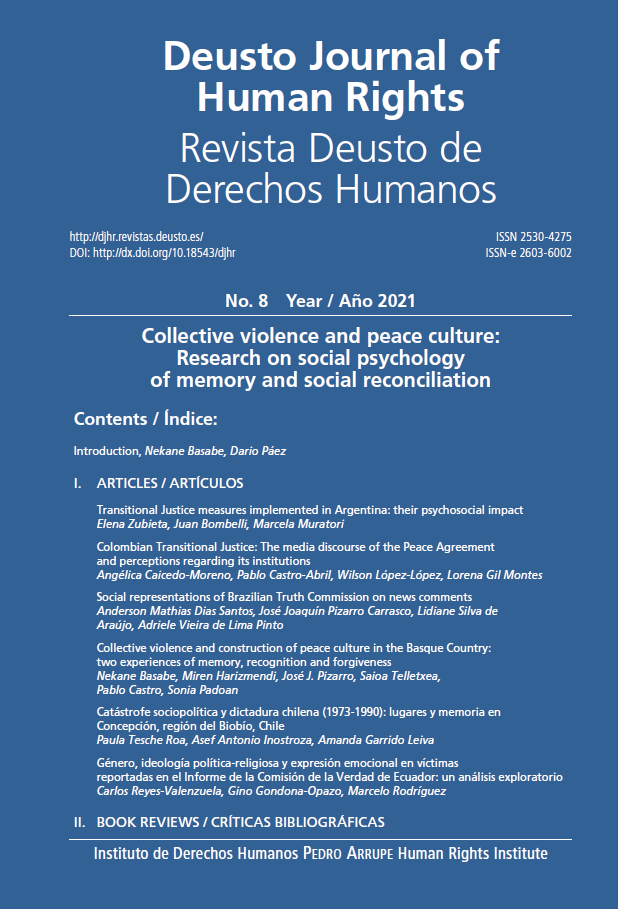 How to Cite
Basabe, Nekane, and Darío Páez. 2021. "Collective Violence and the Culture of Peace: Researching the Social Psychology of Memory and Social Reconciliation: Introduction to the Monograph". Deusto Journal of Human Rights, no. 8 (December), 11-16. https://doi.org/10.18543/djhr.2282.
Deusto Journal of Human Rights / Revista Deusto de Derechos Humanos is an Open Access journal; which means that it is free for full and immediate access, reading, search, download, distribution, and reuse in any medium only for non-commercial purposes and in accordance with any applicable copyright legislation, without prior permission from the copyright holder (University of Deusto) or the author; provided the original work and publication source are properly cited (Issue number, year, pages and DOI if applicable) and any changes to the original are clearly indicated. Any other use of its content in any medium or format, now known or developed in the future, requires prior written permission of the copyright holder.